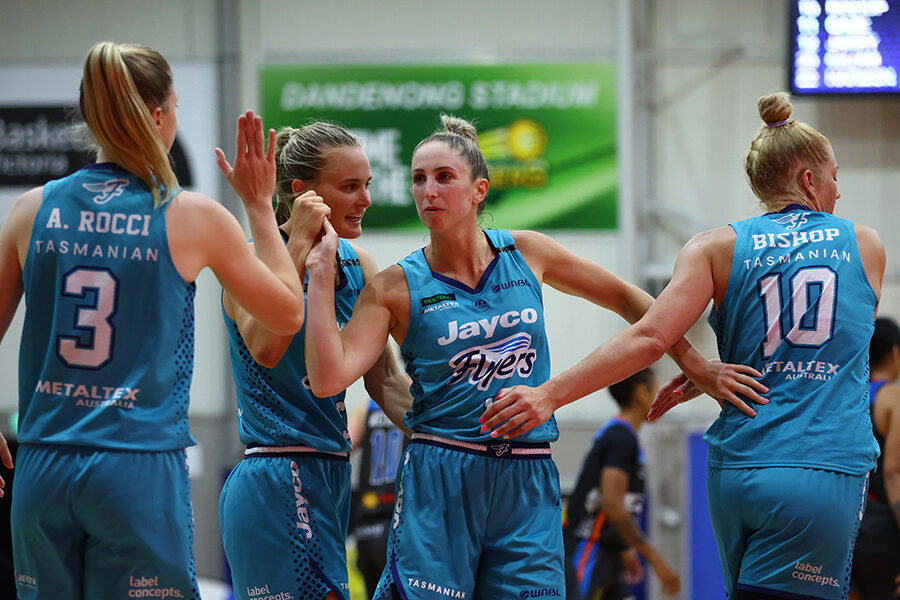 December 24, 2021 | Southside Flyers news
Rebecca Cole played in her 200th WNBL game last night and she put on a performance to match, finishing with 24 points, 3 assists and 2 blocks to help our Southside Flyers complete an incredible Christmas comeback over the Townsville Fire.
The game started off in an even fashion with both teams matching the other shot-for-shot, setting up what would be an epic WNBL Round 4 battle.

Cole got on the scoreboard early adding seven points to her name and Abby Bishop & Jenna O'Hea both added to the tally and brought down several key rebounds. It was Steph Reid who helped Townsville start to run away in the first however, as she poured in nine points to help the Fire reach a 32-20 lead at the first break.
The second quarter didn't prove much better for the Flyers. Jarry added to the scoreboard along with Maddison Rocci, but a dominant quarter from Townsville's Monique Billings made it tough to inch back. She finished with 10 rebounds for the night and 22 points. Her performance, particularly in the first half, helped propel Townsville to a 54-41 that no doubt made many Flyers fans nervous going into the second half.
The half-time chat from Chambers must have been big however as our Southsiders came out playing some tenacious and hungry basketball. From the first play of the third quarter our Flyers looked ready to take it to Townsville, pumped up and ready to prevent back-to-back home defeats.
Cole hit some big shots to spark the comeback but it was Maddy Rocci's back to back 3's that forced Fire's coach Shannon Seebohm to call a timeout in an attempt to rally his troups. The game intensity rose from here with both teams playing physical basketball to make their claims for 3rd quarter winners. Billings continued to be a key for the fire as she scored the last basket of the quarter to put her team up by eight at the break.
This game came down to the wire with the Flyers Family getting LOUD to back their team in the final quarter. Four quick points from Captain O'Hea helped bolster the Flyers comeback but Billings again remained consistent as she fired four points straight back, setting up the trading of blows that would force this game to become a nailbiter.
Abby Bishop hit a huge 3 with 3:27 to go that led to a Townsville timeout and the Flyers only being down by one point. After some back and forth action it was Aimie Rocci who hit a beautiful step back to give the Flyers their first lead since the first quarter. Steph Reid hit a late 3 in the game to rock the Flyers but after some perfect free-throw shooting from Bishop, who finished 8-8 at the line, it was a Flyers win at the buzzer!
The girls will enjoy a will deserved break over the Christmas and New Year's period, not playing again until Thursday January 6th where we take on the Perth Lynx as they make base in Ballarat. We'll see you in 2022 Flyers Fans, until then have a Merry Christmas, terrific New Year and enjoy a well-earned holiday period.
GO FLYERS!
NEXT FLYERS HOME GAME
Southside Flyers vs Perth Lynx
Thursday January 6th – 7:00 PM Tip Off
Dandenong Stadium
TICKETS: https://rd5-southsideflyersvsperthlynx.intix.com/