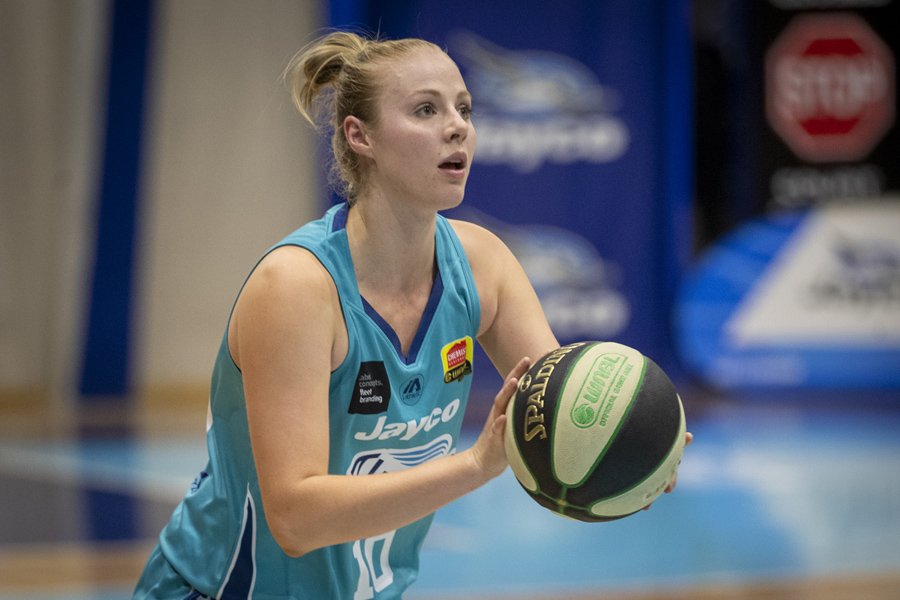 December 17, 2019 | Southside Flyers news
By Ryan Edwards 
Our Tale Of The Tape series will look back on a particular Southside Flyers home game and analyse what happened and why! This week we look back on our 81-62 victory over the Townsville Fire, paying particular attention to Jenna O'Hea's interchangability, Kiera Rowe stepping up on D and how we managed to douse the Fire's offense.
Jenna O'Hea as a Small-Ball 4
In a game that saw both teams struggle to score at times, the Flyers found a key to unlock their offense when O'Hea was featured in the power forward position. In the 18 possessions that O'Hea played the 4 next to either Rowe or Maley at the small forward slot, the Flyers put up an impressive 28 points, good for 1.56 points per possession (ppp).
To put that in perspective, for the rest of the game the Flyers only scored the ball at a rate of 0.86 ppp excluding the game's final minutes. Being next to three perimeter players opened up space for O'Hea's ability to put pressure on the rim, leading to the Flyers scoring 1.83 ppp on her drives.
FLYERS VS. FLAMES THIS SATURDAY – GET YOUR TICKETS NOW
Kiera Rowe's Team Defense
With Aimie Clydesdale unable to suit up for Southside, Kiera Rowe stepped up in a major way. Whenever Rowe took the floor, the Fire's offense came to a halt. Kiera always found herself in the right position to cut off drives, cover passing lanes, and contest would-be open jumpers.
With Rowe on the floor, the Fire only managed to score the ball at a measly rate of .70 ppp excluding garbage time. Even more impressively, 12 of Townsville's 33 possessions in that time frame with Rowe on the floor ended with a turnover.
She was clearly in the opposition's head, with the Fire coughing the ball up on 36% of their possessions.
4-GAME FLYERS MEMBERSHIPS – A PERFECT LAST-MINUTE CHRISTMAS GIFT!
Slowing down the Fire's Attack
When the Flyers challenged Townsville to try and execute a half court attack, the Fire came up flat. Southside's strong communication and ability to diagnose their opposition's plays shut down the Fire. The further into the shot clock the Fire went, the less likely they were to score:
| | |
| --- | --- |
| Shot Clock | Points Per Possession |
| 18-24 Seconds | 1.455 |
| 12-17 Seconds | 0.941 |
| 6-11 Seconds | 0.731 |
| 0-5 Seconds | 0.417 |

Fast Facts
Along with outstanding defense, Kiera Rowe managed to hit all three of her spot up 3 point attempts
The Flyers tore apart the Fire with their backdoor cuts, scoring every time the pass was made. Anneli Maley in particular excelled here
Southside struggled to execute in the pick and roll when anyone other than Mercedes Russell was setting the screen. They scored 1.20 ppp with Russell as the screen setter, compared to just 0.533 with anyone else.

NEXT FLYERS HOME GAME
SOUTHSIDE FLYERS VS. SYDNEY UNI FLAMES
When: Saturday 21 December @ 7:00pm
Tickets: Now available via Tixstar
Doors Open: 6:00pm
Where: Dandenong Stadium, 270 Stud Rd, Dandenong North