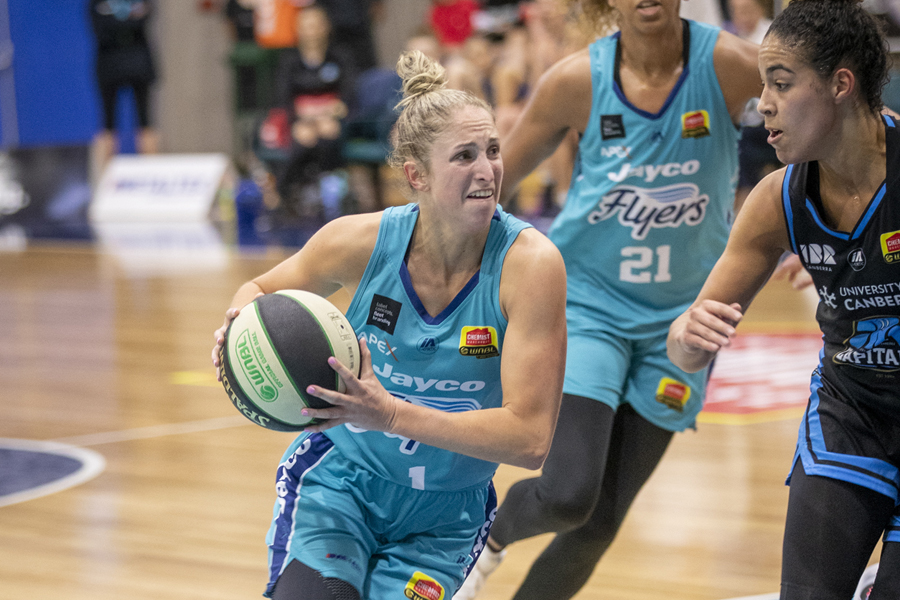 January 23, 2020 | Southside Flyers news
By Ryan Edwards
In the second game of WNBL Round 14, the Southside Flyers suffered a tough defeat at the hands of the UC Capitals, 74 to 98. With Bec Cole missing most of the first half and captain Jenna O'Hea out with a wrist injury, the Flyers struggled to score against a tough Canberra defense.
Below is an in-depth look at what went wrong for the Flyers and some encouraging trends they can look to capitalize on in the future:
Transition Struggles
The Flyers' downfall this game was their inability to keep the Capitals' out of transition. Canberra was lethal when they pushed the ball up the court, scoring 23 points in just 14 possessions, good for 1.64 points per possession (ppp).
Southside's offense wasn't doing their D many favours, coughing up the ball 18 times to help ignite Canberra's break. When the Flyers' were able to slow UC down to a half-court attack, they held the Capitals' to a more comfortable 0.93 ppp.
Anneli Maley's Energy
Whenever Anneli Maley checked into the game, you could sense the Flyers get an extra pep in their step. In a game that Southside struggled to come down with a rebound, Maley was attacking the glass on every single possession. Even when she wasn't getting the rebound herself, she was in the paint causing havoc, tipping loose balls to her teammates and fighting through Capitals' boxouts.
Without Anneli on the floor, the Flyers pulled down 23% of their possible offensive rebounds and 38% of their possible defensive boards. With Maley on the court, Southside grabbed 50% of their O-boards, and 55% on the defensive end.
Bec Cole, the Pick and Roll Maestro
Despite playing through all sorts of pain, Bec Cole still managed to carve up the Capitals' defense when she was given the reigns to the Flyers' attack. When running the pick and roll, Cole looked in her element, patiently drawing the defense in only to dump a pass off for an easy layup once her opponents committed.
In the 6 possessions that ended with a Cole pick and roll, the Flyers scored 5 times, good for 1.67 ppp. This is all the more impressive when you compare her numbers to the rest of her team, who only managed to score 0.59 ppp on pick and rolls when Bec wasn't running the show.
Let's hope Bec can bring that same drive and fire this Saturday night against the Lightning!
NEXT FLYERS HOME GAME
SOUTHSIDE FLYERS VS. ADELAIDE LIGHTNING
When: Saturday 25 January @ 7:00pm
Tickets: Now available via Tixstar
Doors Open: 6:00pm
Where: Dandenong Stadium, 270 Stud Rd, Dandenong North