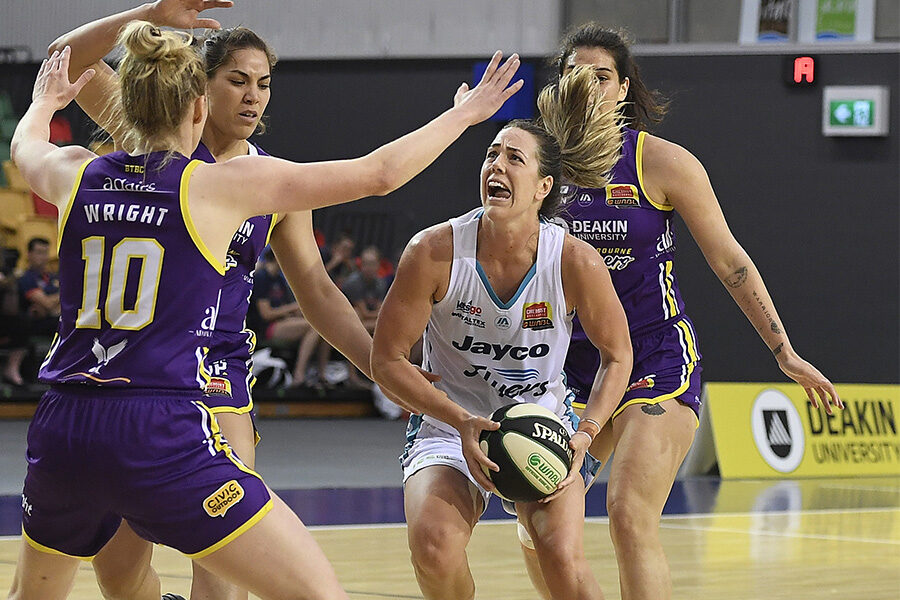 November 15, 2020 | Southside Flyers news
The Southside Flyers were unable to keep up with the Melbourne Boomers' red hot 3-point shooting on Saturday night, losing 89 – 72.  Here's a look at how the Boomers were able to pull away in the second half, and what positives the Flyers can look to bring into today's game vs the Flames.
Boomers Spreading Out The Flyers' Defense
After shooting a solid 4/11 (36%) in the first half from the 3, Melbourne came out firing from deep, hitting an insane 12/16 (75%) on their three-point attempts. To the Boomers' credit, they did not make it easy for the Flyers' to cleanly contest their shooters.
Melbourne was able to spread out Southside's defense by dragging out most possessions into late in the shot clock, tiring the Flyers down with a variety of screens, passes, and cuts until someone was able to sneak out to the 3 point line for an open look. When Melbourne took a 3-point shot in the second half, there was an average of just under 11 seconds left on the shot clock.
Outside of the Boomers' 3-point onslaught, the Flyers were effective containing the Melbourne attack. They were able to protect the rim, limiting the attack to less a point per shot at 0.921 points per possession (PPP). When they were able to keep the Melbourne shooters within the three-point line, they made life miserable, getting in shooter's faces and limiting them to 0.529 PPP on 17 attempts.

Attacking the Hoop
The rims were not kind to Southside in Queensland last night, shooting 2/16 (12.5%) on mid-range jumpers and 4/15 (26.7%) from long range. Despite this, the Flyers were able to keep it close for most of the game by forcing the ball inside. Melbourne was no match for the Flyers' bigs down low, with Liz Cambage generating 21 points on 13 shots in the paint, and Sara Blicavs creating 9 on 6 attempts herself.
Whether by backing down their opponents in the low post or catching the ball up high and driving past their opponent, Southside's dynamic duo imposed their will on the Boomers' interior defense.
The starting backcourt of Leilani Mitchell and Bec Cole were instrumental in getting the ball to the post to take advantage of the mismatch down low. They both used the pick and roll masterfully to create shots at the rim for themselves and their pick and roll partners, with Mitchell generating 1.250 PPP and Cole 1.500 PPP out of the pick and roll.
Unfortunately, Southside struggled to get the ball inside when the pair sat. With the pair on the floor the Flyers' assisted on about 54% of their made baskets and only turned it over on 14% of their possessions. Without them, those numbers went to just about a 31% assist rate and a 30% turnover rate.