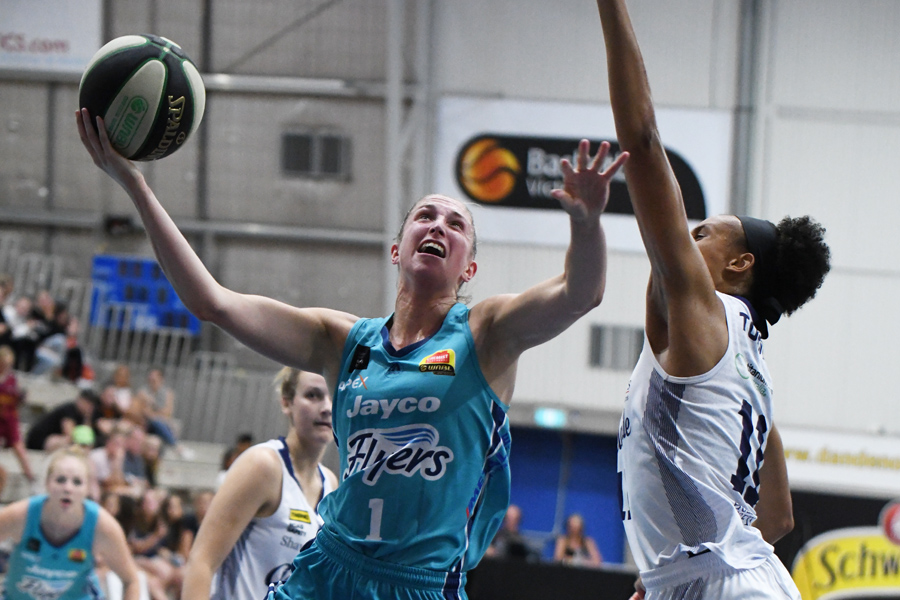 January 28, 2020 | Southside Flyers news
By Ryan Edwards
After suffering a tough defeat in their last game, the Flyers' bounced back in impressive fashion with a commanding 81 to 69 win over the Adelaide Lightning on Saturday night. Below is an in-depth look at just how the Flyers' managed a wire-to-wire victory over the Lightning:
Flying Around the Perimeter
The Flyers' were locked in on the defensive end of the court, putting maximum effort into ensuring the Lightning never got off any open jumpers. Southside were constantly aware of opposing shooters, closing out hard to prevent a clean look at the basket.
Adelaide could feel the pressure of the Flyers' defense, shooting only 3 for 15 (20%) on spot up attempts. The constant pressure saw the Lightning start to avoid their usually comfortable catch-and-shoot looks, instead settling for 16 pull up jumpers off the dribble.
Over half of Adelaide's attempts from outside the paint were forced into a look off the bounce.
SATURDAY IS THE LAST GAME BEFORE FINALS! GET YOUR TICKETS HERE
Bec Cole's Offensive Dominance
Bec Cole had an answer for any look the Lightning threw at her, scoring 28 points on just 17 shot attempts. Adelaide stood no chance of stopping her one-on-one, with Cole managing to score on all 4 of her possessions that ended with her in isolation.
Because of this, the Lightning's defense had to be ready to help from all directions whenever Bec had the ball, freeing up her teammates. Cole took advantage of this, with Southside scoring 1.50 points per possession (ppp) on plays that ended with her driving to the hoop and leading the Flyers' to 1.38 ppp as a ball handler in pick and rolls. The rest of the team struggled to draw the same kind of attention out of the pick and roll, only scoring 0.50 ppp.
Louella Tomlinson Stepping Up
With Mercedes Russell getting into foul trouble early in the first half, Louella Tomlinson stepped up to fill the void at center. Tomlinson didn't put up flashy numbers, but her activity on both ends of the floor kept the Lightning at arm's length as Russell was stuck on the bench.
Despite not being credited with a rebound herself, Louella was constantly in the paint, battling & boxing out Adelaide to ensure her teammates got the loose ball. With Tomlinson on the floor, the Flyers' pulled down an impressive 73% of all possible defensive rebounds. When she sat, Southside only managed to grab 43%.
On the offensive end Tomlinson filled her role, setting hard screens to free up her teammates. As the screen setter in the pick and roll, the Flyers' scored the ball at a 1.50 ppp clip, and only 0.58 ppp with anyone else.
Fast Facts
The Flyers' shut down Adelaide transition attack, only allowing 0.94 ppp
Adelaide only managed score 3 points on 10 attempts when attacking a switched pick and roll
NEXT FLYERS HOME GAME
SOUTHSIDE FLYERS VS. SYDNEY UNI FLAMES
When: Saturday 1st February @ 7:00pm
Tickets: Now available via Tixstar
Doors Open: 6:00pm
Where: Dandenong Stadium, 270 Stud Rd, Dandenong North