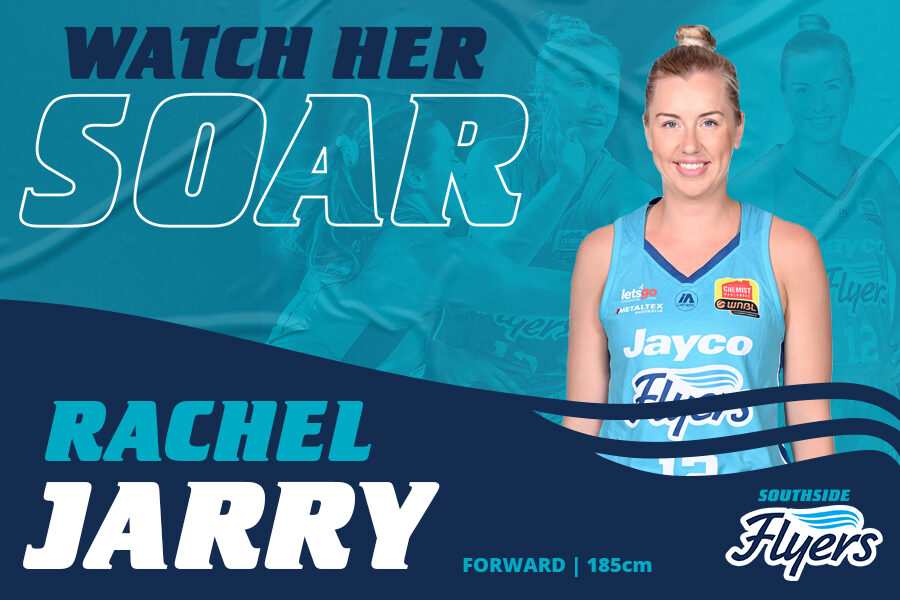 June 22, 2021 | Southside Flyers news
Rachel Jarry is looking forward to a 'normal' season with Southside Flyers in 2021-22 after enjoying a successful comeback to the WNBL with a Championship in her return to the big time.
"I was really excited to return to the WNBL with the Flyers last season and winning the championship was obviously a real bonus. I couldn't have asked for a better result and absolutely loved being part of the Flyers. It was a real pleasure to share the season with such a great group of teammates, coaches and staff, it was fantastic.
"Now I am looking forward to being part of the team in what we hope is a normal season, a more traditional campaign and one that I don't have to take extended leave from my job as I had to do last year in the hub season," said Rachel.
 After training with the Flyers prior to the 2020 season and making the decision to return to the WNBL following discussion with senior coach Cheryl Chambers and assistant coach Belinda Snell, the decision to play the season in a hub in North Queensland required Rachel to take leave from her role with Victoria Police. Thankfully her leave was granted, and Rachel played an important role in the Flyers season and Grand Final victory.
Cheryl Chambers is thrilled to have Rachel continuing her career as the team strives to defend their 2020 Championship.
"We saw last season just how important Rachel is for our team, and that was having a year out of the WNBL, so I am sure she will be even better next season. The experience and grunt she provides, combined with her high basketball IQ, she not only contributes, but she also makes those around her better," said Cheryl.
"Rachel's work ethic is incredible, combining her role with Victoria Police and playing basketball at the elite level requires real commitment and she sets a fantastic example for the team," Cheryl added.
The 2020 Grand Final victory with the Flyers was Rachel's second WNBL Championship in what has been a fantastic and very successful basketball journey since starting in Altona as a 5-year-old and being part of the Dandenong junior program. Playing in Australia, USA and France with success highlighted by a WNBA Championship with Minnesota Lynx, Olympic Bronze Medal with the Opals at the 2012 Olympic Games, and a Bronze Medal with the Opals at the 2014 World Championships.
Rachel is the fifth player from the 2020 Championship team to confirm their commitment to the Flyers for the upcoming season. More announcements will be made in the coming weeks.