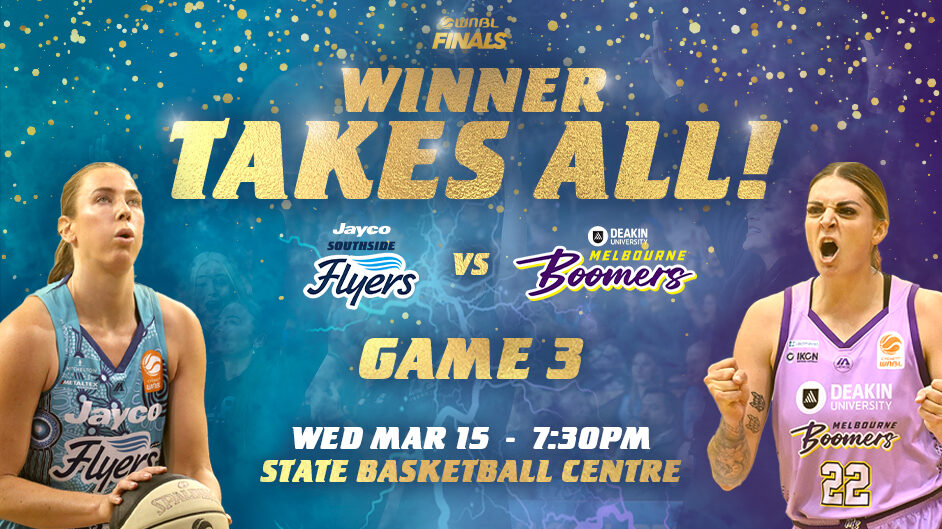 March 12, 2023 | Southside Flyers news
SEMI-FINAL GAME 3 – WINNER TAKES ALL
This is it, one chance to make the Grand Final Series as the Flyers and Boomers do battle in Game 3 of the Semi-Final series at the State Basketball Centre on Wednesday night.
Kayla "Special K" Thornton is expected to return to the Flyers line-up for this 'all or nothing' game between the cross-town rivals who have won a game each so far in the series.
CLICK HERE TO PURCHASE TICKETS TO THE DECIDER
On Saturday night at their home court, the Boomers had their first victory against the Flyers this season, in what was the fifth match up between the teams. This Wednesday, the results of the games during the season and the two semi-finals will count for nothing, as it is all on the line, with the winner heading to the Grand Final series, while the loser's season will come to an end.
Don't miss what promises to be an exciting game at the State Basketball Centre on Wednesday night. Tickets are now available from just $5.
Click Here to Purchase
Southside Flyers vs. Melbourne Boomers
Wednesday March 15
State Basketball Centre
Tip Off at 7:30pm
Doors Open at 6:00pm
Be there to cheer your Flyers to victory.