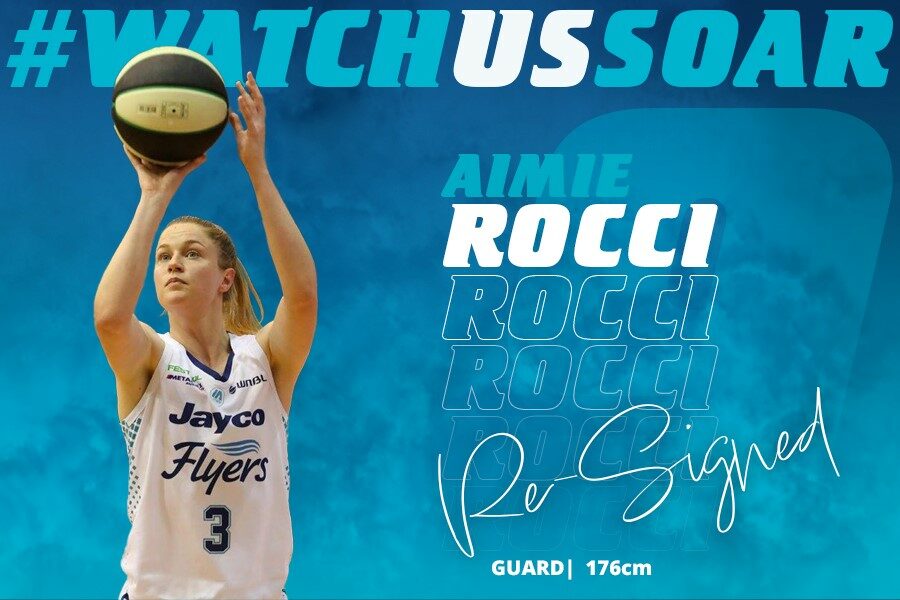 August 29, 2022 | Southside Flyers news
An original Flyer and a crowd favourite, highlighted by her 'team first' attitude, Aimie Rocci will continue to be part of the Flyers family in the 2022/23 WNBL season.
A dual WNBL Championship player, Aimie is a true quiet achiever in the way she gets things done with a minimum of fuss and can be relied upon in all situations, often stepping up in a time of need for the team.
"This is an amazing team and organisation, like a big family. We certainly work hard, but we also ensure there is a balance and enjoy our time together ensuring we all enjoy being part of the Flyers
"I am looking forward to being part of a successful team again this season. While we were disappointed with last season, we know the high standards we set ourselves will ensure we meet the challenges and have a successful and enjoyable season," Aimie said.
Flyers Coach Cheryl Chambers knows the importance of having Aimie as part of the team.
"Aimie is a real pleasure to coach, she is a super athlete and puts real pressure on the opposition at both ends of the court. She is quick on her feet and can get to the rack, and her defensive work is fantastic, making her a real team player," said Cheryl.
A consistent player, the one thing that has changed since Aimie joined the Flyers in the inaugural season is her surname. Aimie Clydesdale in her first two seasons with the Flyers, she married Kristian, the brother of teammate Maddy Rocci after the 2021 season and is now Aimie Rocci.
Aimie started her basketball journey with the Dandenong Under 12s and was an Australian Junior representative in the Under 17s and then in the Under 19s. She was part of the Gold Medal winning Australian Under 19 team in the Oceania Junior Championships in 2010 and a member of the team that finished 4th in the FIBA World Championships the following year.
In 2017 Aimie was a member of the Gold Medal winning team at the World University Games.
Her WNBL career started with the Dandenong Rangers in 2010 where she continued until 2017 and was a member of the Rangers WNBL Championship team in 2012. She moved to Adelaide to join the Lightning for two seasons in 2017 before returning to Melbourne to be part of the inaugural Flyers team in 2019.
Join the Flyers Family – Click Here to become a Member in 2022/23