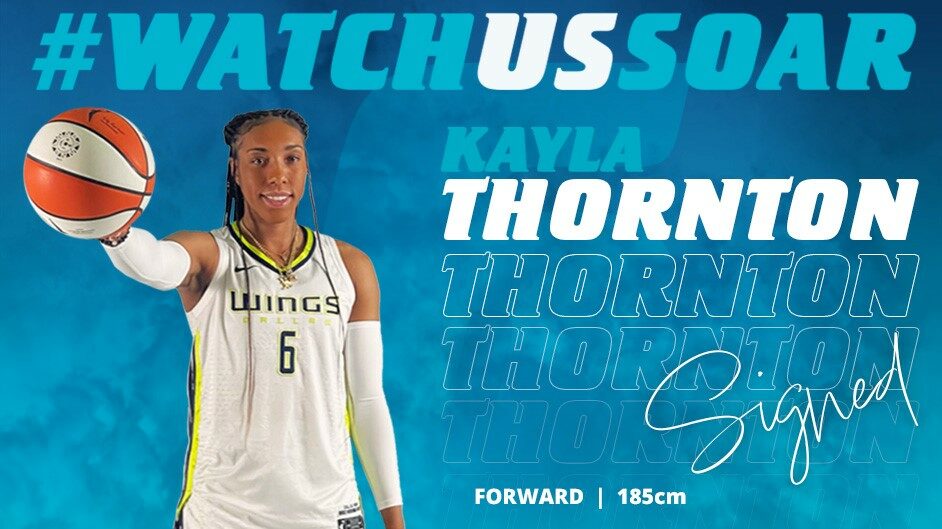 October 24, 2022 | Southside Flyers news
Kayla Thornton, a starter with Dallas Wings in the WNBA, has joined the Flyers for the 2022/23 WNBL season.
Kayla has played five seasons with Dallas Wings, who made the semi-finals in this year's WNBA, and has also had great experience playing overseas in Europe, Israel, and South America. A Championship player in South Korea and Israel, Kayla has also been named player of the year in the leading competitions in South America, Korea, and Israel competitions.
Born in El Paso Texas, Kayla was a member of the University of Texas starting five in her four years at College and was named in the NCAA Conference First Team in 2104 after being named in the Second Team in 2012 and 2013. She was named in the All-Defensive Team in 2013 and 2014 and was part of the Conference Champions in 2012.
"Kayla is going to be an exciting player in the league. She is very athletic and is super competitive and really hits the boards hard. Her athleticism makes her very difficult to match-up and she is also a very good 3-point shooter as well as being able to defend most positions.
"I think Flyers fans are going to really enjoy watching her play and I know she will have a big impact in the WNBL," said Flyers coach Cheryl Chambers.
Kayla arrived in Melbourne over the weekend has wasted no time in getting to know her Flyers teammates, catching up with them at training earlier today.
"I am really looking forward to the season. I have heard a lot about the WNBL and know it is a great league and I really want to make an impact and help the Flyers enjoy a very successful season.
"The chance to play alongside the great Lauren Jackson is something I didn't ever think would be possible so that is a real bonus, and I am sure Lauren will help my game even further," Kayla said on her arrival in Australia.
Already training with the team, Kayla will be ready for the opening game against Adelaide at the State Basketball Centre on Saturday November 5.
Dont' miss seeing Kayla make her WNBL debut and of course the return of 'The Goat' Lauren Jackson at the State Basketball Centre on Saturday November 5. Tickets are just $5 for children and $20 for adults with concession and family tickets also available. All tickets include a reserved seat.
Membership is still available for all nine Flyers home games the State Basketball Centre, with Members receiving a special price and the best seats in the venue. Don't miss any of the action this season, become a member today and join the Flyers Family.