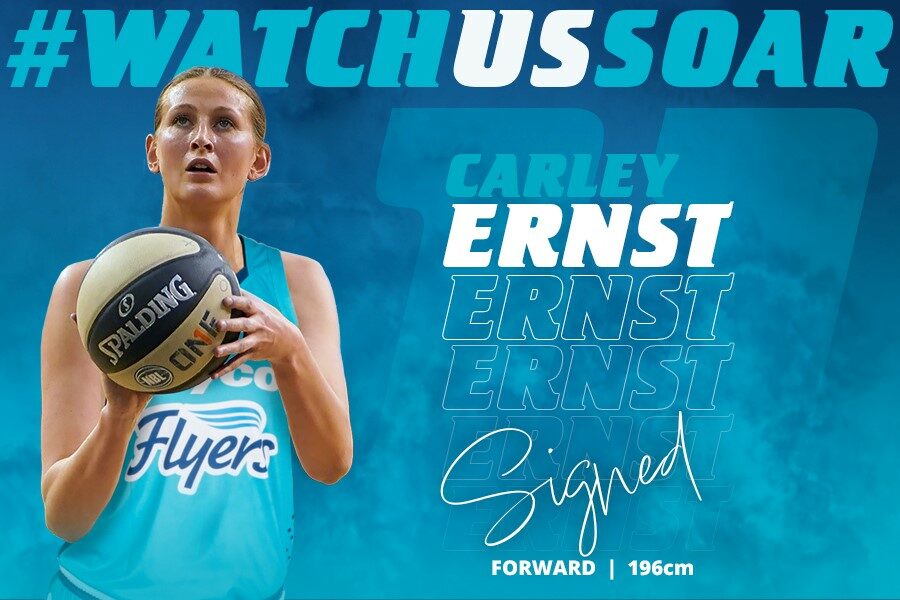 September 7, 2022 | Southside Flyers news
WNBL Championship player, Carley Ernst will add further experience to the Flyers for the 2022/23 WNBL season.
A Dandenong Rangers junior, Ernst represented Australia as a junior for U17s and U19s where she won a bronze medal in the 2013 FIBA U19 World Championships. Her WNBL career started with the AIS and she was the WNBL 'Rookie of the Year' in 2012. She was a member of the Opals squad in 2013 and was drafted to the Washington Mystics with selection 30 in the 2014 WNBA Draft.
Carley was a member of Australia's 3×3 team in France in 2017 and has played with AIS, Dandenong, Canberra, Adelaide, Perth, Bendigo and Melbourne in her successful WNBL career.
As well as a successful WNBL career, Ernst also played in Romania in 2018 and was part of the Championship winning team
Carley returned to the WNBL early this year after she and her husband welcomed their first child, son Kylan, in September last year. In a remarkable return to the game, Carley was a member of the 2021/22 WNBL Championship team, just seven months after having Kylan.
"I'm excited for Kylan and me to be joining the Flyers family. I have played with and know most of the girls well and I am really looking forward to getting started and having a good season with the Flyers," Carley said.
One year old Kylan will have plenty of young playmates at the Flyers, with a number of the players and staff with young children, adding to the real family feel at the Flyers.
"Speaking with Cheryl (Flyers coach Cheryl Chambers) and some of the players I know it will be an exciting and hopefully successful season for the team. It is also about the people, and it really feels like the Flyers family which is important to me and our young family," Carley added.
Cheryl Chambers said Ernst is an important new player for the team.
"Carley can make an impact across all areas of the game and adds real depth to our team. She also brings valuable experience, including championship winning experience, both here and in Europe, adding to our leadership on and off the court," said Cheryl.
Carley joins Lauren Jackson as new players to join the Flyers for the 2022/23 WNBL season with more announcements to come. Carley and Lauren join returning players Sara Blicavs, Maddi Rocci, Bec Cole, Abby Bishop, and Aimie Rocci on the Flyers roster for the upcoming season.