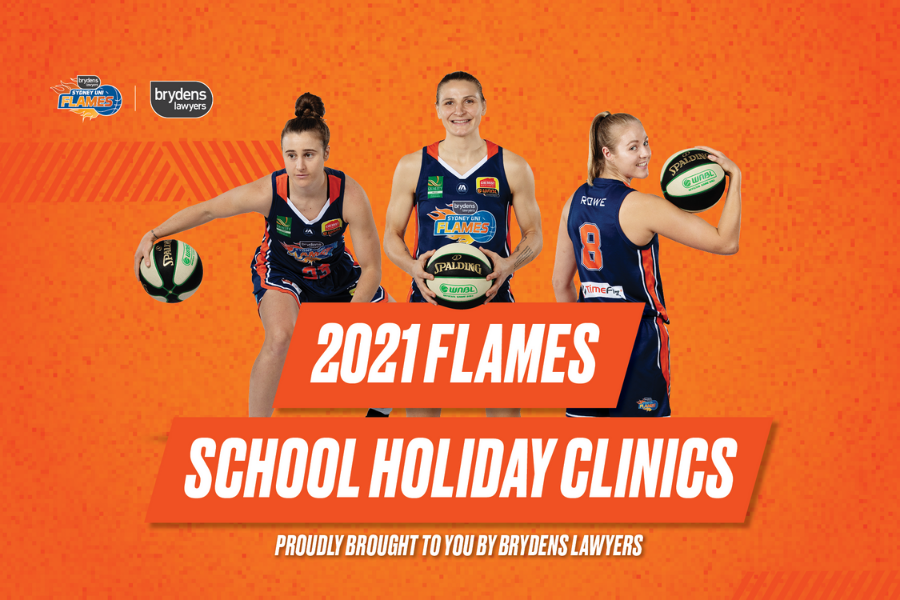 January 8, 2021 | Sydney Flames news
Looking for something for the kids to do these school holidays?
Our Brydens Lawyers Community Program could be coming to a location near you!
Join us for a jam-packed skills and drills session with some of your favourite Flames players and coaches, as we head on a road trip around NSW.
The 2021 Flames School Holiday Clinic schedule is as follows:
 
WEST WYALONG
Date: Tuesday 12 January, 2021
Time: 10:00am – 12:30pm
Venue: West Wyalong Basketball Stadium – 6 Short Street, West Wyalong
Cost: $25
Ages: 9 – 16
*Please note this is a girls only camp.
 –
BATHURST
Date: Wednesday 13 January, 2021
Time: 10:00am – 12:30pm
Venue: Bathurst Basketball Stadium – 34 Alexander Street, West Bathurst
Cost: $25
Ages: 9 – 16
–
MUSWELLBROOK
Date: Monday 18 January, 2021
Time: 2:00pm – 4:30pm
Venue: Muswellbrook Indoor Sports Stadium – Rutherford Road, Muswellbrook
Cost: $25
Ages: 9 – 16
 –
TAREE
Date: Tuesday 19 January, 2021
Time: 2:00pm – 4:30pm
Venue: Saxby's Stadium – Cnr Blight Street & Recreation Drive, Taree
Cost: $25
Ages: 9 – 16
 –

COFFS HARBOUR
Date: Wednesday 20 January, 2021
Time: 2:00pm – 4:30pm
Venue: Ballina Indoor Sports Stadium – 63 Cherry Street, Ballina
Cost: $25
Ages: 9 – 16
 –

PORT MACQUARIE
Date: Thursday 21 January, 2021
Time: 2:00pm – 4:30pm
Venue: Port Macquarie Basketball Stadium – 1 Hibbard Drive, Port Macquarie
Cost: $25
Ages: 9 – 16
–

CAMDEN VALLEY
Date: Monday 25 January, 2021
Time: 10:00am – 12:30pm
Venue: Thomas Hassall Anglican College – 125 Kingsford Smith Avenue, Middleton Grange
Cost: $25
Ages: 9 – 16
If you have any questions, please contact admin@sydneyflames.com.au