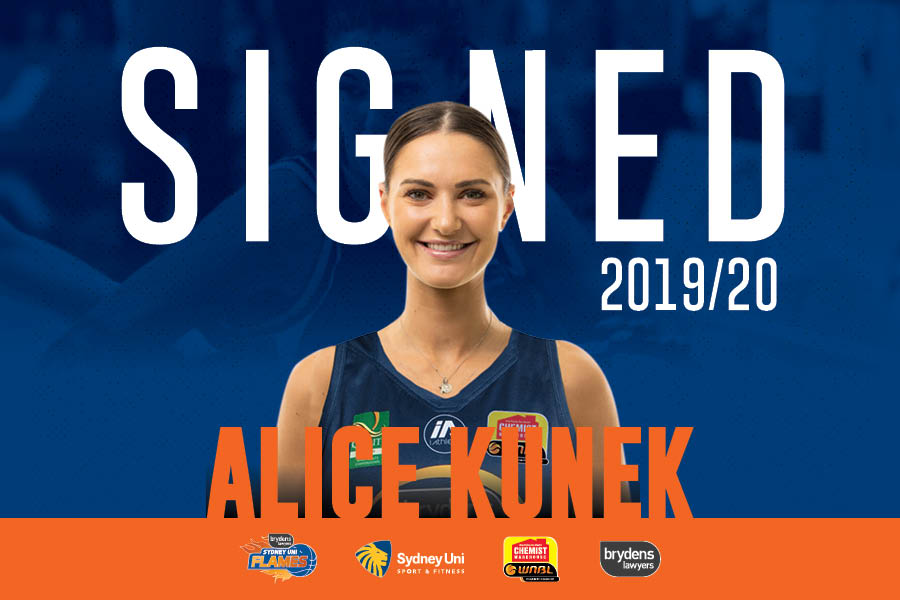 August 23, 2019 | Sydney Flames news
The Brydens Sydney Uni Flames are thrilled to announce Alice Kunek has signed for the upcoming WNBL season.
A 2011 WNBL champion, the 28-year-old boasts over 200 games of experience in the league and won a gold medal with the Opals at the 2018 Commonwealth Games.
Flames coach Katrina Hibbert believes Kunek's experience is a key asset to the team's success.
"We had the fortunate opportunity to pick up a quality player in Alice Kunek who made a late decision to stay in Australia instead of returning to Europe for another season," Hibbert said,
"Alice brings a wealth of international experience  and will add depth to our already talented group, so we are excited to have her join us at the Flames this season."
Having worked with coach Hibbert in the past, Kunek believes she can take her game to the next level.
"I'm really excited to be back in the WNBL this season after a year in Europe and even more excited to be playing for the Sydney Uni Flames. Our roster is exciting and also a great group of women," she said.
"I have played for Frog (Katrina) before and loved playing under her. I'm looking forward to expanding my game and to help do whatever I can to make every individual and the team get better every day.
"I'm also excited to get out into the community and continue to grow and support the next generation coming through in Australia."
Let's take the Flames further, together. 2019-20 membership packages available now.