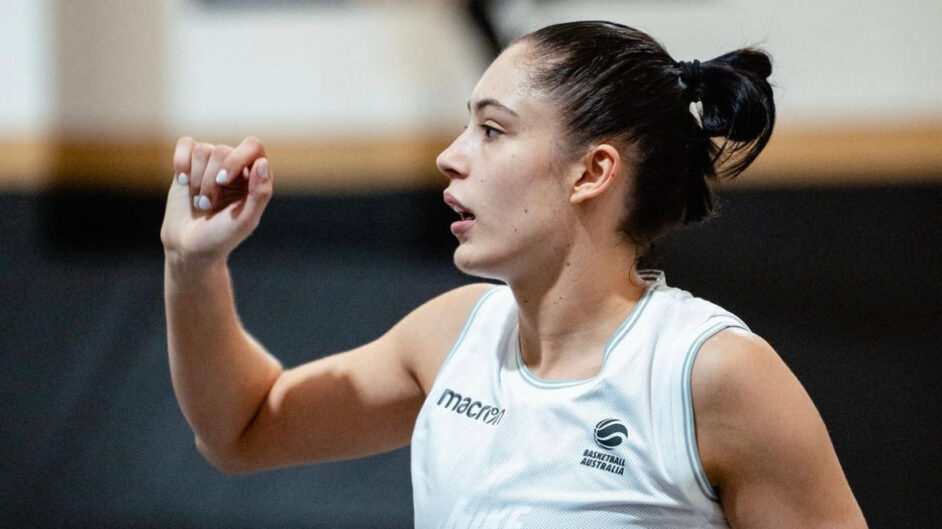 March 22, 2023 | Sydney Flames news
The career trajectory of Emma Clarke continues to point up after she was this week named in the extended Australian women's 3×3 squad.
Sydney Flame Clarke and the men's and women's Gangurrus squads spent the last week in Melbourne preparing for Singapore's Asia Cup, which will take place from March 29 to April 2.
"I absolutely loved every second of my first 3×3 camp," Clarke said.
"It was a very competitive environment and was super physical – definitely a style of play that I really enjoyed."
REGISTER YOUR WNBL24 MEMBERSHIP INTEREST NOW
Following the camp, the Flames wing was named as one of two emergencies (alongside Miela Goodchild) for the green and gold team (featuring Anneli Maley, Alex Wilson, Marena Whittle and Lauren Mansfield).
"Although it would have been great to make the final squad, I'm very eager to get back on the 3×3 court, as it's very fun to play and something that I can really see fit my style of play," the Perth product said.
Further to that, Clarke admits there were numerous adjustments she was forced to make from the five-a-side game to the 3×3, which she will take forward in WNBL24 with the Hoops Capital side.
"Physicality [was the biggest adjustment], as there aren't nearly as many foul calls and in every possession, you really have to fight for your positioning," the 23-year-old said.
"The mindset to be a scorer and be creative every possession is also an adjustment – as is the pace, with the change from offence to defence being very quick and you have to be super switched on.
"Overall, this experience has expanded my creativity and understanding of the 3×3 game – through the ability to finish through contact, score at all three levels with tough defence and defend all positions with another level of physicality."
Seeded 11th, Australia's women's team – who won the title in 2017 and 2019 – are in qualifying draw B (against New Caledonia, Kazakhstan and Republic of Korea) and will join Thailand and Qatar if they proceed to the pool rounds.
Clarke will now turn her attention to playing with the Perry Lakes Hawks in the 2023 NBL1 West competition.