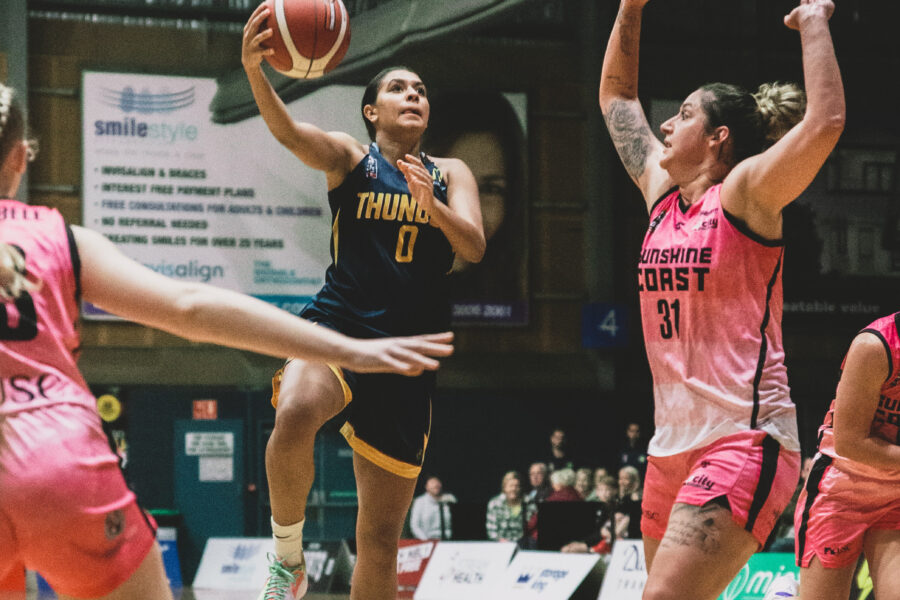 August 25, 2022 | Sydney Flames news
During her two seasons with the Logan Thunder, Sydney Flame Indiah Bowyer and her side has established itself as one of the premier women's clubs in Queensland.
After winning the 2021 Queensland Basketball League crown, Bowyer's Thunder is now just two wins away from taking home the inaugural NBL1 North title.
"I love the whole environment here at Logan, which is honestly the best situation I've ever been in," said Cairns junior Bowyer.
"All the girls push each other to be the best players we can be, which has been a key trait to why we've been so successful on the court the past two seasons.
"Admittedly, with all this talent, it's taken me some time to find my role in this side but I've been happy with my contributions this season."
REGISTER YOUR INTEREST FOR FLAMES MEMBERSHIP HERE
Standing in their way of achieving that is the Townsville Flames – with the two set to lock horns in a best-of-three series at Bendigo Bank Cornubia Park Sports Centre, starting on Friday night.
"To win this weekend, we will need to be locked in defensively and ensure we get through our sets with the ball in our hands," Bowyer said.
"We know Townsville are well coached by Shannon Seebohm and have dangerous players all over the court, so we're going to all have to come ready to play.
"If we do those, we're confident we can take home the title, which would be an amazing honour and reward for our hard work this campaign."
A win in this series would not only secure them the NBL1 North crown but also a spot at the national finals, set to be held in Melbourne from September 9-11.
If they do progress to that, she will join fellow Flames stars Kalani Purcell and Madelyn Allen at the State Basketball Centre – whose Southern Districts Spartans qualified through the wildcard tournament.
"To be a part of the national finals would be amazing but we're not looking too far ahead, as we know Townsville is going to be as tough as any team we've played in 2022," she said.
Once the NBL1 season wraps up, Bowyer hopes to build on her 10.10 points, 2.30 rebounds1.25 steals and one assist per game with the Thunder when she joins Shane Heal's Flames for her maiden WNBL season.
"My year with the Thunder has prepared me well for my first upcoming season with the Flames," she said.
"Coming into an environment like the Flames, I know it's going to be a lot more professional and I'm really excited to get to work with Shane [Heal] and take my game to a new level."
Bowyer and her Flames teammates, which include Shyla Heal, Keely Froling, Kalani Purcell, Madelyn Allen, Tiana Mangakahia, Vanessa Panousis, Lilly Rotunno, Emma Clarke, Kiera Rowe and imports Jocelyn Willoughby and Hannah Sjerven, tip off their WNBL23 pre-season training on Wednesday, September 21.