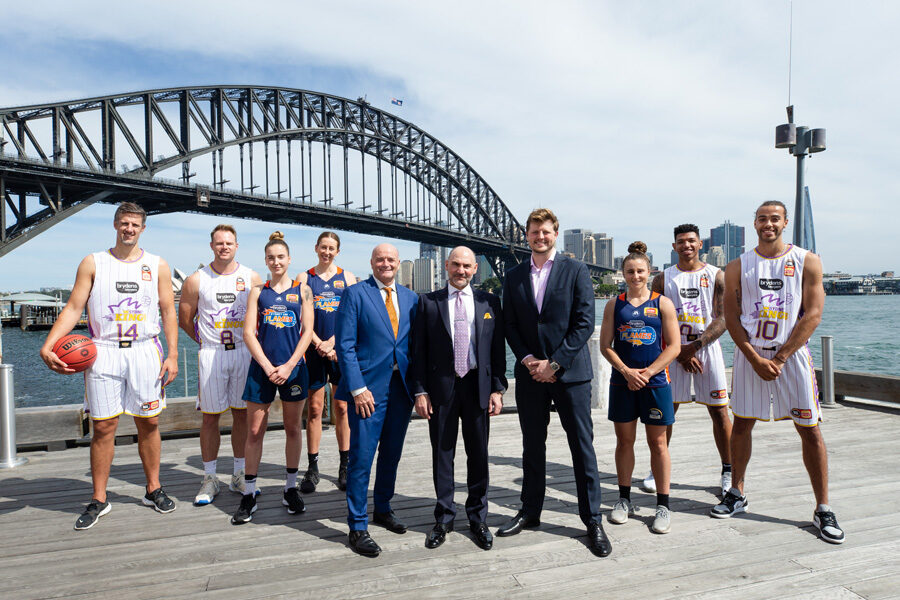 November 2, 2020 | Sydney Flames news
In a landmark announcement for basketball in NSW, Brydens Lawyers have agreed to a partnership that will see them become the Major Naming Rights Sponsor for both the Sydney Kings and the Sydney Uni Flames for the next three years.
An established brand within the Australian sporting landscape, Brydens Lawyers are one of the leading law firms in NSW, who are committed to providing expert legal advice and representation to their clients.
The partnership is a key milestone for the Kings following the Club's most successful season in recent history, which included a Minor Premiership, the Club's first Grand Final appearance since 2008, and a record breaking year for crowd attendance at Qudos Bank Arena.
In what has been a tumultuous year for the sporting industry, this announcement is a huge win for basketball in Sydney, and Chairman and Owner Paul Smith could not be more pleased.
"This partnership is particularly significant as Brydens Lawyers are a group of people that understand our vision and want to join with us as we look to reshape the landscape of professional basketball in Sydney. By becoming one Club with one Major Sponsor for our two teams establishes commercial connectivity at the outset."
"We're more than aware of the challenges that are in the economy right now, all over Australia and around the world, and the difficulties that all sports are experiencing, so for Brydens Lawyers to be committing to the Kings at the level that they are during this time, it's a testament to Lee and the entire Brydens  Lawyers organisation."
"It's not just about the economic input, it's also the fact that a brand like Brydens Lawyers who are a supporter of elite sport in many ways now also stand with the Sydney Kings and the philosophies and culture that we're building, and that's really the most important thing."
"Brydens Lawyers have been a fantastic sponsor of the Sydney Uni Flames for many years and the fact that they've bought into what we're doing with the Kings as well, it's fantastic for the growth of our sport" Smith said.
Principal of Brydens Lawyers Lee Hagipantelis said sponsoring the Sydney Kings was a natural evolution for the company who have had a long association and relationship as a major sponsor of the Sydney Uni Flames.
"The Sydney Kings are an iconic Sydney brand and Brydens Lawyers have been around for 40 years now, so I like to think we're an iconic brand as well. We have a long history and association with elite sport so for us to be able to add the Kings to our stable of stars, it's very exciting" Hagipantelis said.
"I think with us and the Sydney Kings we both strive for excellence, at Brydens Lawyers we do so with the representation of our clients, and Sydney Kings strive for excellence in what they provide for their supporters."
"When you find that synergy and commonality between two brands, something that you can leverage off and promote within each other's organisations, you know you're onto a winning formula for success" Hagipantelis said.
Under the new agreement, Brydens Lawyers will officially become the Major Naming Rights Sponsor and exclusive legal services provider for the Kings which will see them become closely intertwined in everything the Kings do, including primary branding across the front of the Kings new jerseys set to drop in the coming weeks.
Kings CEO Chris Pongrass encouraged Kings fans to welcome the Club's new sponsor, and thanked them for their support heading into NBL21.
"We couldn't be more thrilled to welcome Brydens Lawyers into the Kings family. Our members and fans should be excited about how Brydens Lawyers will integrate into the Club at such a critical juncture. The Kings are excited to collaborate with such a recognisable brand like Brydens Lawyers that has enjoyed tremendous growth in recent years; we look forward to helping continue this growth for years to come" Pongrass said.
"Brydens Lawyers share in the Kings desire to grow elite basketball in Sydney and NSW, highlighted by their longstanding support of the Sydney Uni Flames and now their partnership across the only two professional basketball teams in Sydney. During such a challenging period, their level of commitment to the Kings is only heightened; this is an important day for our organisation and we thank Lee, Vicki and the Brydens Lawyers' team for coming on this journey with us."