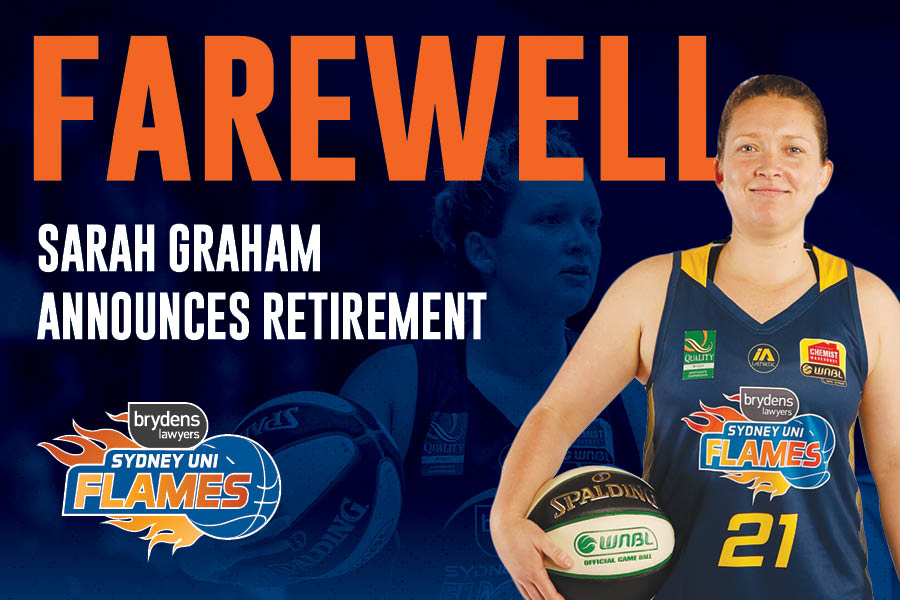 December 27, 2019 | Sydney Flames news
Brydens Sydney Uni Flames captain Sarah Graham has announced her retirement at the end of the 2019/20 WNBL season, beginning a new chapter in life after basketball.
The veteran guard enjoyed 12 seasons in the WNBL across four clubs, amassing 213 games and almost 2000 points, finishing with a career average 40.9% from the floor and a lethal 38.9% from three.
Graham averaged 9.1 points, 2.1 assists and 1.4 boards per game across her career.
She has been a valuable member to the organisation, from winning the championship 2016-17 to helping lead the team through a difficult 2018-19, honoured with the captaincy in 2019/20 in her fourth season with the Flames.
Scooping up a list of accolades on her way to retirement, the 30-year-old was named the 2008/09 WNBL Rookie of the Year, won a bronze medal at the 2009 and 2011 World Uni Games and made the 2010/11 WNBL Finals with Logan Thunder.
Graham said the timing felt right to draw the curtain on what has been a fantastic career.
"I don't think I'll ever be ready to stop playing, but all things considered, I feel it's a really good time for me. I've been very fortunate to have played with some amazing players and quality people over the years, some of which are now like family," she said.
"I'm really excited for what's ahead, and will take with me some hard lessons, beautiful memories and some amazing relationships. I'm very thankful for the Flames and for the past four years at the club and am happy I get to finish up here."
Flames General Manager Karen Dalton commended Graham on her efforts and contribution to the organisation over the years.
"I have had the pleasure of having Sarah in the Flames program for four seasons. She is a hard-working player renown for her deadly three point shot. She is the ultimate team player and is a much loved and respected team member," she said.
"This was highlighted in season 2019-20 when she was elected team captain of the Brydens Sydney Uni Flames. I wish her all the best on her future endeavors and know that she will be successful wherever her path takes her."
It will be one of your final chances to see Sarah in action when the Flames take on Adelaide Lightning during Family Round at Brydens Stadium on 29th December with a 5pm tip-off! Purchase your tickets here.