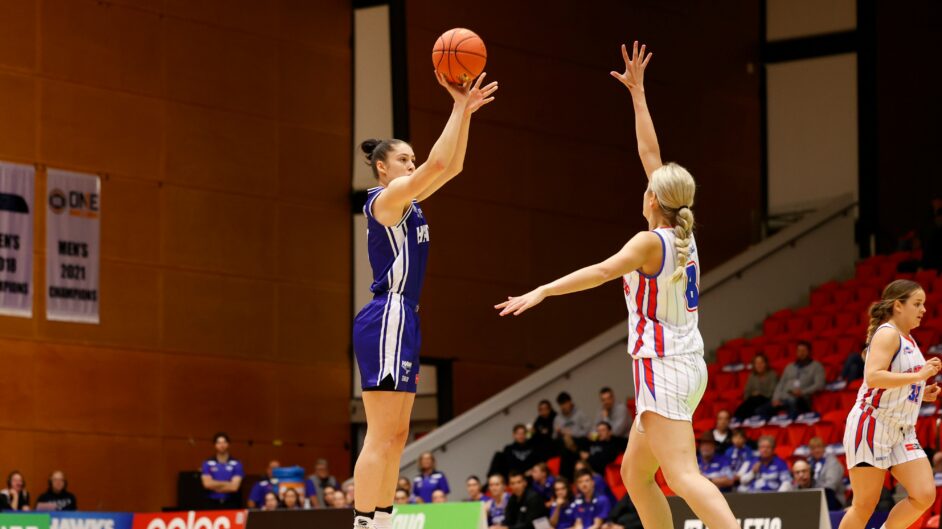 May 1, 2023 | Sydney Flames news
Hoops Capital players continued to shine across the country, during the weekend's exciting NBL1 action.
After being sidelined for one week due to an illness, Sydney Flames wing Emma Clarke shone with 18 points, 11 boards, four assists, three steals and one block at Perry Lakes belted the South West Slammers 102-47.
Clarke's Eagles, who are currently sixth with a 4-3 record, now travel to the Herb Graham Recreation Centre to lock horns with East Perth.
Returning to NBL1 South and both Keely Froling and Kiera Rowe chalked up wins with their respective sides.
Froling was outstanding for Launceston in their 83-76 triumph over Melbourne with 38 points, 10 rebounds, three dimes and two steals.
While Rowe put up 17 points, eight rebounds and two assists as Knox outlasted Casey 81-65.
In round five, Froling's Tornadoes travel to Casey and Waverley and Rowe's Raiders battle Ringwood and Sandringham.
Shifting to the north and there were plenty more strong showings by the harbour city's stars, including Southern Districts' Maddy Allen.
The Flames sharpshooter recorded 23 points, seven boards, three assists and three steals as the Spartans edged Gold Coast 86-80.
Next up for the Spartans is the northern road trip to Townsville and Cairns.
Lilly Rotunno from 𝔻𝔼𝔼ℙ 💥

Perfect marks from long range for the Red City youngster so far ✅

Watch the #NBL1 Game of the Week Live & Free on @kayosports Freebies 📺 pic.twitter.com/0ePszYIr4s

— NBL1 (@NBL1) April 28, 2023
Flames youngster Lilly Rotunno and her Red City Roar suffered two defeats across the weekend, to Logan (98-67) and Ipswich (92-69).
Across the two fixtures, Rottuno tallied 28 points, 10 rebounds, five assists and one steal.
The Roar will aim to return to the winner's circle against Northside next game.
Elsewhere in Queensland and Indiah Bowyer's Townsville lost narrowly to undefeated Darwin (66-63) despite 12 points, two rebounds, one assist and one steal by the Flames young gun.
Bowyer's troops next face Southern Districts on Saturday at home.
Finally, moving to NSW and the Sydney Comets, headlined by Jada Crawshaw and Vanessa Panousis, lost 86-70 to Newcastle.
In the loss, Crawshaw double-doubled (19 points and 11 rebounds) with three steals and two blocks while Panousis tallied 16 points, two steals, one rebound and one dime.
The Comets return home next round to host the Crusaders.
Finally, Emma Donnelly added eight points, two rebounds, one assist and one block as Norths smashed Illawarra 114-56.
The Bears host Canberra in round eight.
REGISTER YOUR WNBL24 MEMBERSHIP INTEREST NOW
Moving to the Kings contingent and Sydney's Kouat Noi, the reigning NBL1 North MVP, made his long-awaited season debut for USC Rip City on Saturday,
Unfortunately for Noi and his side, that didn't translate to a win, going down 92-91 in a heartbreaker to Northside at the Northside Indoor Sports Centre.
In the defeat, Noi tallied an impressive 34 points, 15 rebounds, five assists, two steals and one block.
Next up for USC in round six is a showdown with Logan – headlined by Kings teammate Shaun Bruce.
The Thunder come into that fixture on the back of a comprehensive 111-87 win over Red City, in which Bruce recorded 10 dimes, seven points and six boards.
Elsewhere in NBL1 North, rising star Jaylin Galloway and his Ipswich moved to 5-0 in 20223 after downing Red City on Saturday.
In the triumph, the 20-year-old King put 27 points, six rebounds, two steals and two blocks – continuing his fantastic season.
A home game at JBS Stadium against North Gold Coast on Saturday is next up for Galloway's Force.
While Makuach Maluach's Darwin split their road double-header over the weekend, losing 90-73 to Cairns before overcoming Townsville 91-86.
Against the Marlins, the Kings' newest signing produced 12 points, seven rebounds, one assist and one steal before exploding for 32 points, 11 boards, three dimes and one steal against the Heat.
The Salties return home in round six to host Brisbane on Saturday.
Moving to NBL1 South and Angus Glover's Eltham split their two fixtures in round four.
Despite 20 points, seven rebounds and two assists by Glover, the Wildcats fell 89-75 to Sandringham.
But the Wildcats rebounded in a big way, smashing Keilor 102-66 thanks to 19 points, six boards, four dimes and one swipe by two-time NBL champion Glover.
The 5-1 Wildcats will look to build on their strong start to 2023 next Saturday against Nunawading.
To NBL1 East and Archie Woodhill's Sydney Comets lost 89-74 to Newcastle – with the young King adding 10 points and two rebounds in the defeat.
In round eight, the Comets host Central Coast on Saturday night.
Finally, out west and Isaac Gattorna returned from a one-week absence to steer Geraldton to a thumping 97-63 victory over the Eastern Suns.
In the win, Gattorna produced 17 points, six rebounds, two assists, two steals and two blocks.
The Buccaneers next travel to Mandurah on Saturday.
Stay up to date with all the Hoops Capital off-season news here.