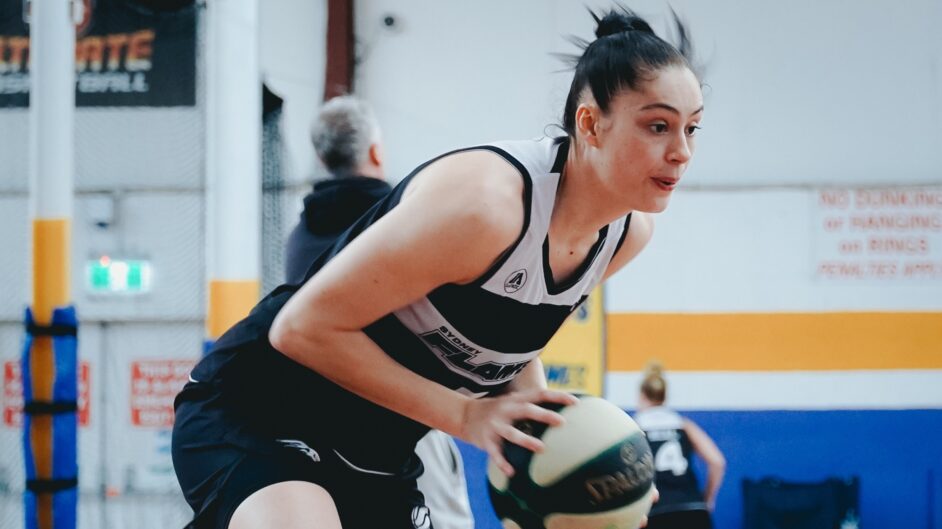 September 16, 2022 | Sydney Flames news
Much has been made of the Sydney Flames' revamped roster heading into the WNBL23.
From the additions of imports Jocelyn Willoughby and Hannah Sjerven to exciting Australian guards Tiana Mangakahia and Vanessa Panousis, Shane Heal's squad appears set for a huge campaign.
One that has gone under the radar though is the signing of wing Emma Clarke, who penned a two-year deal from Perth in May.
"The main reason I wanted to join the Flames is the chance to work with and learn from Shane Heal," said Clarke, who spent two seasons with Colorado University in the United States.
"He knows what it takes to succeed at the highest level and I believe his coaching style will help grow my game."
CLICK HERE TO GET YOUR FLAMES MEMBERSHIP
But that won't last long, as Flames fans will quickly come to appreciate how key Clarke will be to Heal's team engine.
"To be honest, I haven't been able to fully showcase my talents the past two years, playing behind a couple of really skilled imports," Clarke said.
"Moving here will allow me to show my strengths each and every week, including shooting, my athleticism, ball-handling and the ability to guard multiple positions – especially by going up against current WNBA and Australian players at practice."
While the Perth native only arrived in the harbour city at the weekend and has partaken in a couple of small group sessions, she's been blown away by the Flames' organisation.
"The way Shane and the other coaches break down specific areas to each individual player has been amazing and I've already learnt plenty," the 22-year-old said.
"Just look at the group who's been in here working in Shyla [Heal], Tiana [Mangakahia], Vanessa [Panousis] and Keira [Rowe], we all bring our own strengths to the game and the coaches are regularly giving us tips to try and focus on different elements that need work.
"This approach will help me become the player I want to be and not just a piece of the puzzle."
Clarke comes to the Hoops Capital club on the back of her best NBL1 season to date, averaging 22.50 points, 10.20 rebounds, 3.05 assists, 1.55 steals and 1.30 blocks with Perry Lakes.
"It was great to be injury free and play the way I know I'm capable of," said Clarke, who spent time at the Australian Insitute of Sport alongside fellow Flames Shyla Heal and Keira Rowe.
"My confidence is high at the moment and I'll be looking to carry that into my debut campaign with the Flames."
Clarke and her side officially tip-off pre-season on Wednesday, ahead of the start of the WNBL23 campaign in November.
"It'll be awesome to have the whole group together soon and start working towards that WNBL championship," she said.
"I honestly can't see why we can't go all the way – the amount of young talent and depth is exciting and will no doubt bode well for us as the season progresses.
"The young legs on the team, especially with the short turnaround between games, mixed with Shane's style and accountability,  makes me believe we can win another piece of silverware for this proud club."