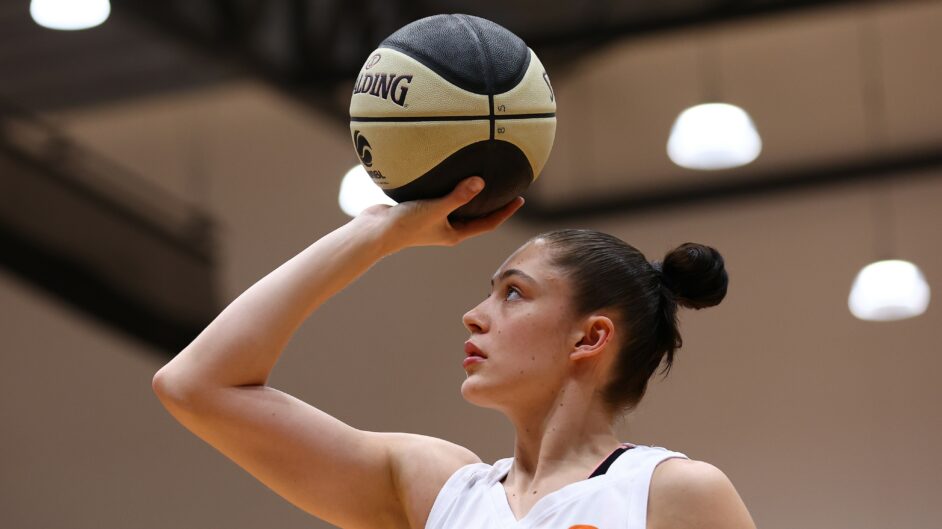 November 11, 2023 | Sydney Flames news
Friday night's win against Bendigo was memorable for Emma Clarke and her Sydney Flames in more ways than one.
Not only did they record their first victory of WNBL24 but Perth product Clarke also chalked up her 50th WNBL game.
"I'm really grateful for the opportunities I've had thus far with Perth and Sydney," Clarke said.
"I've played with some really talented teammates who have pushed me and battled with me at training and played under quality coaches who have all contributed to my development and career thus far.
"I'm really thankful for everyone who has impacted my first 50 games in the amazing league."
As the 23-year-old alludes to, she believes she has grown during her four seasons in the WNBL, which include 22 appearances with the Hoops Capital club.
"With a really unanticipated start to my pro career after deciding to not return to the college system, signing with the Lynx three days before the hub season, I'm so glad I made the decision to stay in Australia and pursue a career in the WNBL and can't believe I've already hit 50 games," the Perry Lakes junior said.
"I've definitely learnt a lot of this about myself on and off the court [during these 50 games].
"I feel like I have matured as a player and that's thanks to my phenomenal teammates and coaches and staff who have made this journey so amazing so far."
In the game itself, during her first start for the season, Clarke added 11 points, five rebounds and one assist – which sparked the harbour city's victory.
"I think we definitely improved on our last game – after a great week of practice it was good to see some of the things we have been making a focus show on the court," the Australian Gangurrus representative said.
"Making defence the focus for not only the team and myself, I think we were able to execute areas of the game plan with lead to our success on the scoreboard."
Watch Emma Clarke's highlights from Friday via Sydney Flames' YouTube channel above. While you're there, be sure to hit subscribe, to ensure you never miss out on any of our great videos.
The Flames, who are now 1-1 on the season, have a quick turnaround and now face Melbourne in their first home game of WNBL24 on Sunday – as part of the club's double-header with the Kings.
"Continuing to build on the focus areas we have a team offensively and defensively and trusting in the system and the schemes our coaching staff have put together that will lead to team success [on Sunday]," the wing said.
"Defence will continue to be a strong focus area, our coverages on the ball and from a wholistic point of view as well as executing our sets and backing ourselves and individuals and more importantly as a team."
Tip-off for the Flames game is at 1.15pm before the Kings at 3.45pm against the Bullets.