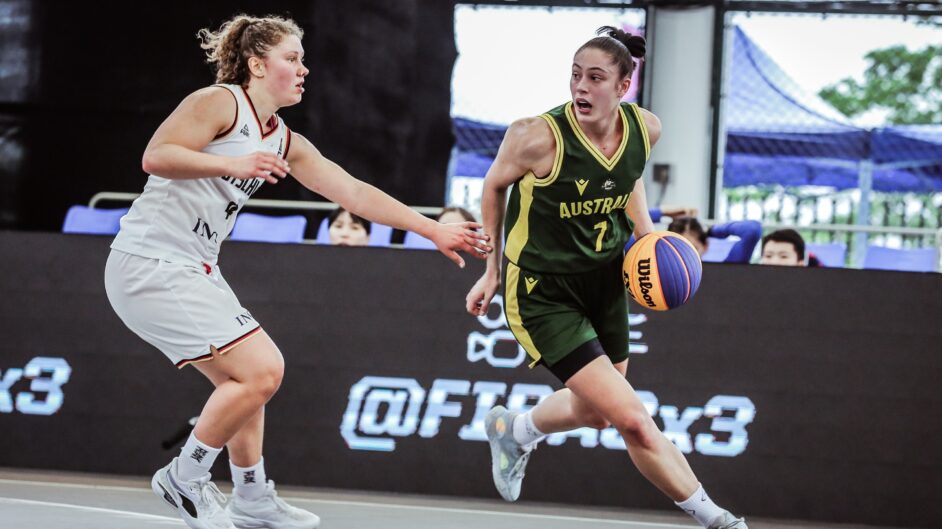 May 11, 2023 | Sydney Flames news
Towards the end of the WNBL23 season, Emma Clarke started to show Sydney Flames fans, not to mention the whole league, her potential as a player.
Not only that, she caught the eye of the Australian women's 3×3 coaches – which led to her being invited to their Melbourne training camp in March.
Following that, she was named as a reserve for the Gangurrus' Asia Cup squad but was soon after rewarded with a spot in the green and gold's touring squad to China for a FIBA World Series event in Wuhan.
REGISTER YOUR WNBL24 MEMBERSHIP INTEREST NOW
"Wearing the green and gold on any international stage is a privilege," said Clarke, who enjoyed interacting with and experiencing the Chinese culture during her trip
"Doing it in a relatively new sport of 3×3 and being my first time was super cool and an experience I'll never forget."
Clarke's squad, which featured Chloe Bibby, Amy Atwell and Lauren Mansfield, claimed the silver medal in Wuhan, losing the grand final to China 21-13.
"I believe I had a solid first tournament," the 23-year-old said.
"There's no better way to gain experience than competing on an international stage against tough competition.
"It was valuable having Lauren Mansfield on the team, who had lots of international 3×3 experience to share her wisdom and guide us."
View this post on Instagram
The Perth product has grown from this experience and hopes this is the start of numerous appearances for the Gangurrus in the international stage.
"[Playing this] has made my one-on-one game, both offensively and defensively, better," she said.
"You need to have the ability to create for yourself in 3×3, as the defence is tight – so having a handle and reading what's open with a short shot clock becomes imperative.
"Defensively it's one vs one, with no help side, so my on-ball defence definitely improved.
"[With that being said] I feel like I've just had a taste of 3×3 and I love everything about it.
"It really suits the type of player, I am so I'm really looking forward to having another opportunity to compete on an international level."
Clarke has returned to Western Australia to continue her NBL1 West season with Perry Lakes, ahead of her second campaign with the Hoops Capital side.