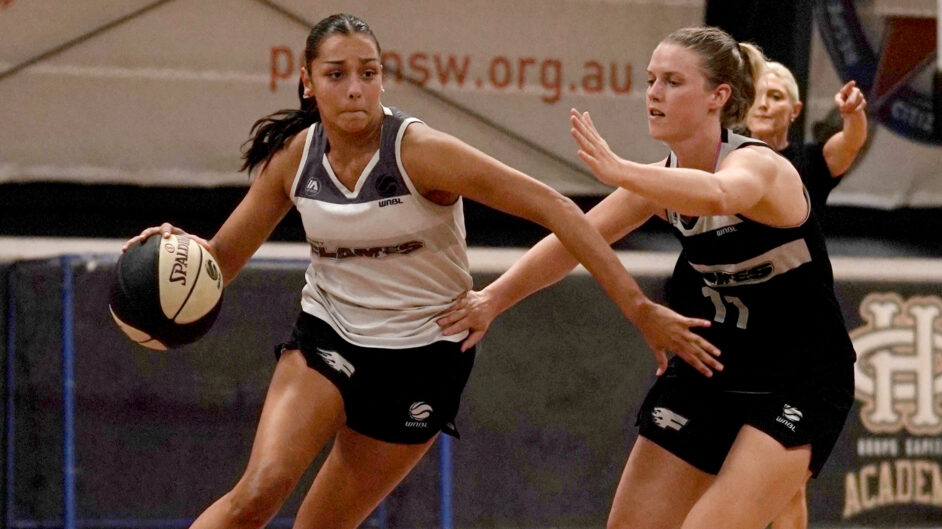 February 6, 2023 | Sydney Flames news
The Sydney Comets women's NBL1 side will have a distinct Sydney Flames flavour in 2023.
After appointing Shelley Gorman as the head coach and signing guard Vanessa Panousis in recent weeks, the Comets have added Flames amateur player Jada Crawshaw to their squad too.
"As I was at boarding school in the eastern suburbs, I became a Comets junior," Crawshaw said.
"I decided to stay with Comets because Shelley Gorman became the new NBL1 coach and I thought it was a great opportunity to continue my development with her.
CLICK HERE TO GET YOUR FLAMES TICKETS NOW
"While Vanessa has been a wonderful role model for her professionalism and her skills – training with them both has given me an understanding of how they both approach the game
"Vanessa will be a steadying influence on what looks like will be a young Comets side and that will be a benefit.
"[Further to that] It's exciting to be part of the inaugural team for Comets, as this side will set the standard for future seasons."
The 18-year-old believes she's set for a big campaign on the NBL1 East hardwood, thanks to the Flames and the impact they've made on her.
"The Flames have embodied higher training commitments and expectations," she said.
"The team has also helped me develop faster gameplay and grow my endurance and strength.
"The team has helped me understand what it means to play basketball at a professional level.
"They [the Flames] have also enabled me to learn more strategy, skills and improve my fitness.
"I have had the opportunity to understand how Shelley approaches the game.
"The Flames have given me the opportunity to watch more professional basketball as well as be a part of it which has allowed me to understand 'the game' and improve my versatility."
Relive all our best bits from our match against the Flyers and Shelley Gorman's first win as Coach 🎉#FlameOn pic.twitter.com/WQESO4Rx3W

— Sydney Flames (@TheSydneyFlames) February 4, 2023
When the season tips off in March, the Northern Territory product has set out goals for her 2023 season.
"One of my personal goals is to improve my versatility – learning more positions and the skills that come with those positions," she said.
"I would also like to achieve double-doubles each week.
"Another goal of mine would be able to be comfortable with being uncomfortable.
"As a team, I would love for us to reach the finals."