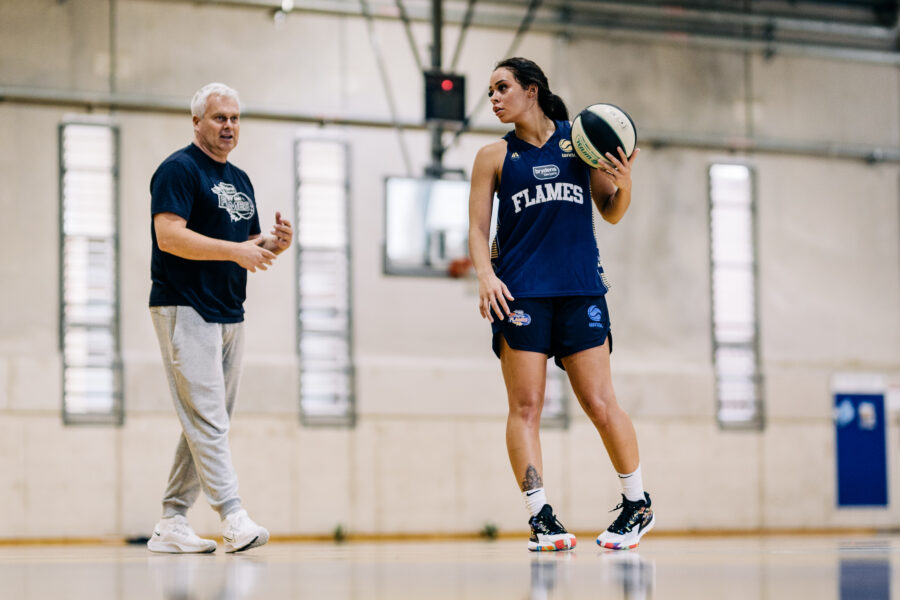 November 10, 2021 | Sydney Flames news
Improving her game under a legend of Australian basketball was what attracted Chelsea Dungee to Australia. 
The star American guard is the final piece of the  Brydens Sydney Uni Flames outfit ahead of the 2021-2022 WNBL season which starts next month. 
The newly-tagged "Crocodile Dungee" arrived in the Land of Oz at the weekend and has wasted no time in getting on the practice court. 
Her signing means the team from the Hoops Capital now boasts three players from the top 10 of last season's WNBA Draft: Dungee, pick five; Shyla Heal, pick eight 
Dungee is a legit star of American basketball. The 24-year-old was a beloved fan favourite of the famous Razorbacks, the University of Arkansas, being named an All-American in her senior year (2001).  
Alongside of being drafted among the best players in the world into the WNBA, in June this year Dungee became one of a handful of athletes to earn the personal support, branding and sponsorship of Michael Jordan's own personal brand. Sydney now boasts a #Jumpman23 athlete. 
VIEW FLAMES MEMBERSHIP OPTIONS
"This feels good. I like Australia, I like the team and it's good to be here," Dungee said this week. 
"I know Steph and Shyla so I feel comfortable. We've got three of the top 10 from last season's WNBA draft so I'm excited for the season. We are a young team with a lot of energy." 
At the conclusion of the WNBA season, Dungee headed to Turkey's Euroleague giant Galatasaray but it was clear it wasn't the right fit for both player and organisation. 
"I was looking for something a bit more up tempo. It doesn't mean there was something wrong with the environment, nothing's perfect, but I wanted something different," she said. 
Then came the call from Flames coach and Australian basketball legend Shane Heal, who was looking for a replacement for injured import Leaonna Odom. 
"Shane was a great player and has a strong skill development focus, ball handling drills and we get a lot of shots up even before training," she said. 
"I think he can make me an overall better player.  
I didn't play much in the WNBA in my rookie season, we had a team full of guards so it was hard to get playing time. You can't be a better player sitting in the bench." 
As for what Sydney Flames can expect from Dungee this season. 
"I'm really energetic," Dungee said. 
"I like playing up tempo, am a great team-mate, I can get to the basket and I'm a good shooter. But I get to the basket, that's one of the strongest parts of my game." 
BUY TICKETS TO FLAMES DOUBLE HEADERS WITH KINGS
Strap yourself in Sydney fans, this is going to be a heck of a ride. 
The Flames welcome back basketball into the Hoops Capital, kicking off a massive double header with the Sydney Kings at the Qudos Bank Arena on December 5. 
The Flames will play six double headers throughout the season with the Kings, and three standalone games which go on sale later this month.