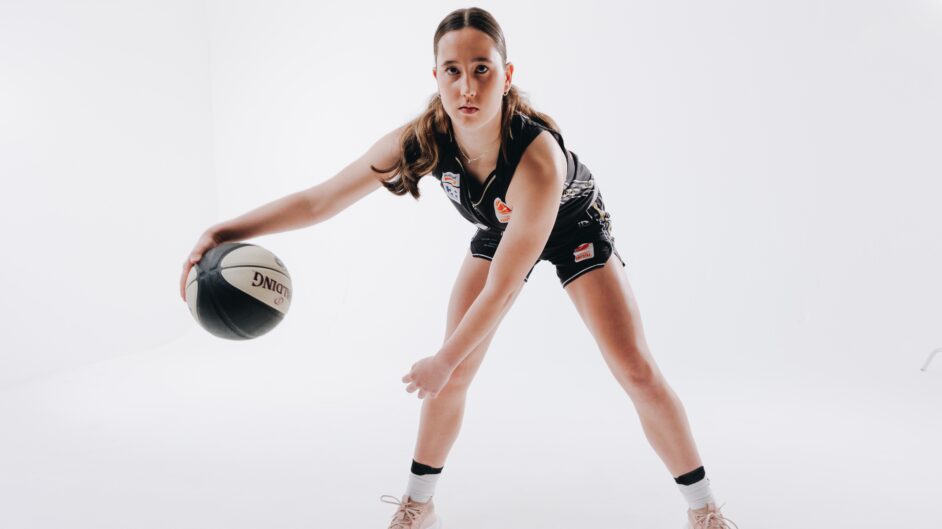 March 6, 2023 | Sydney Flames news
The NBL1 women's competition will be littered with Sydney Flames players during the 2023 competition.
From Vanessa Panousis and Jade Crawshaw at the Sydney Comets (with coach Shelley Gorman) to Tiana Mangakahia (Northside), Lilly Rottuno (Red City), Maddy Allen (Southern Districts) and India Bowyer (Cairns) all in the North division to Keely Froling (Launceston) in the south and Emma Clarke (Perry Lakes) in the west – the Hoops Capital club will have players plying their trades over the country.
Adding to that will be Sydney amateur player Emma Donnelly, who recently penned a deal with the Norths Bears in the NBL1 East.
"One reason I made the decision to sign with Norths was the team's style of play and dynamism," Donnelly said.
"The team's energy is unreal – it's such a positive and competitive environment where it's always team first and everyone is so supportive and excited to see others succeed and reach their goals.
"Every single person there wants to win a championship and get better and therefore each session, players and coaches push each other out of their comfort zone by competing super hard and always holding each other accountable on both ends of the floor.
"It's such a fun, great bunch of people that always have a laugh and all just want the absolute best for each other.
"The support you feel on and off the court is truly special, especially from many of the players with so much high-level basketball experience who I really look up to as role models and are always offering advice and support."
READ MORE: SLAM DUNK FOR HOOPS CAPITAL WITH NEW CENTRE OF EXCELLENCE
A lot of that environment stems from Norths coach and former Sydney Flames star Renae Garlepp.
"I was also super pumped to get the opportunity to play under coach Renae Garlepp again as she is an awesome coach and has had a major positive impact on my basketball career," said Donnelly, who recently helped NSW win the under 20s national title with Renae's husband Tom Garlepp as the coach.
"The support Renae has given me both on and off the court to help me achieve my goals and improve as a player and person is something I really appreciate, so to get the chance to give a little back and always put my best foot forward to help the team try to win a championship is something I'm grateful for.
"I also love the style of basketball she coaches and think it really suits and brings the best out of me as a player."
That player Donnelly alludes to is a versatile one, that can help her Bears outfit in a number of different ways.
"I think I can bring a lot of positive hype and energy to the team," the Sydney Comets junior says.
"Whenever I'm playing a game of basketball, either on the court or the bench, I always try do my bit to keep up the team's energy and make an impact in any way I can – that's something I want to continue to this year.
"Whether that's running the lanes hard on the court, crashing the offensive boards and diving on the 50/50 balls or cheering and supporting my absolute hardest on the bench, which I think makes a really big difference, this year I just want to get around the team and support in any way that I can."
"Whenever I step out on the court, I not only play for my teammates and coaches but I play for all the members, so I'm grateful I have received this award."

After her impact on the court, Mangakahia was awarded the Flames' Members Player of the Year.
📰 https://t.co/rh8ygEpEiq pic.twitter.com/vewE9N8mKn

— Sydney Flames (@TheSydneyFlames) March 3, 2023
A lot of these characteristics are ones Donnelly has developed during her maiden WNBL season with the harbour city side – which she's confident she can translate onto the NBL1 hardwood.
"Training with the Flames has been so beneficial in my preparation for the NBL1 season," the 18-year-old said.
"I have learnt what it takes to be a professional and how it is so much more than just what you do on the court and the importance of being on time, being organised and being a student of the game.
"The NBL1 season is my first year of senior basketball and training with the Flames I have learned so many things that you get away with and are able to do in junior basketball that could never happen at the senior level and therefore has helped me adapt my game.
"Being exposed to such high-intensity gameplay has shown me the importance of fast-paced decision making and having a good basketball IQ and the levels of physicality and bigger bodies which I am exposed to at training have helped me adapt many aspects of my game and become much stronger.
"My teammates have also been awesome never taking it easy on me, holding me accountable to the same high standards as everyone else and being people and players who I honestly look up to and have learned so much from."
Once the Flames' WNBL campaign wraps up on Sunday against the Boomers, Donnelly will shift her primary focus to the Bears' assault, which tips off on March 11 against Manly-Warringah at the Northern Beaches Indoor Sports Centre.
"This season our team wants to win – they were very close last year with a tight loss in the semi-finals, so are hungry to take it further this year," she said.
"As a team, we want to be relentless for the full 40 minutes allowing nothing easy and forcing our opposition to have to work for everything while also looking to punish teams with our athleticism and individual talent on both ends of the floor.
"Personally this season I want to grow as a player and be able to hold my own against the older experienced players we face especially in regard to my decision-making and basketball IQ.
"I also want to continue improving my defence and become a lockdown on-ball defender and lastly look for more opportunities to utilise my athleticism and attack all the way to the hoop using contact to my advantage rather than pulling up or settling for a jump shot."