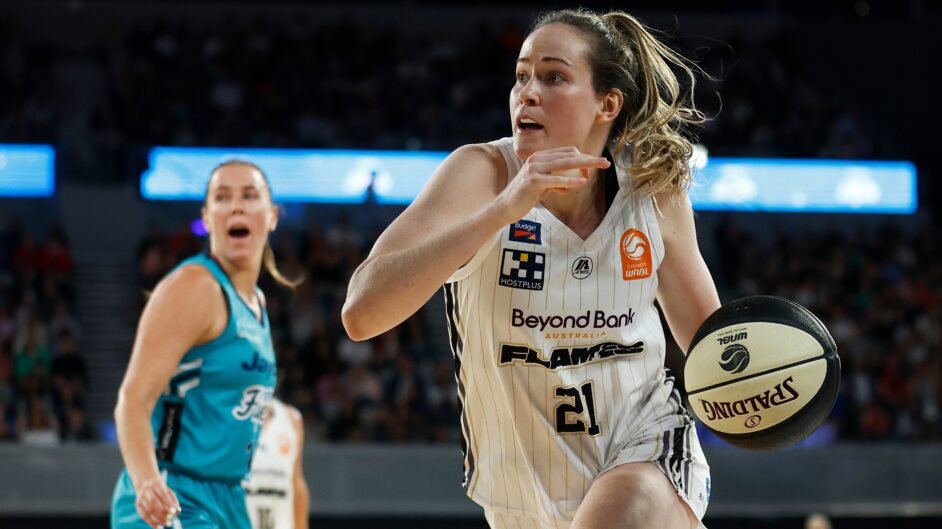 February 8, 2023 | Sydney Flames news
FIBA has announced the 2023 Women's Asia Cup will be hosted in Sydney from June 26 to July 2 this year – marking the first time ever the competition will be hosted in the country.
This seven-day competition, which is the inaugural FIBA Asia event in Australia, will also present the opportunity for Flames pair Keely Froling and Tiana Mangakahia to represent the Opals in front of their home fans in Sydney.
"It's so exciting to see the Asia Cup being held in Sydney this year," Flames skipper Frolinh said.
"To get the opportunity to wear the green and gold in front of home fans is so special and great for women's basketball in Australia."
CLICK HERE TO GET YOUR FLAMES TICKETS NOW
This will be the second major international competition the Sydney Olympic Park precinct would have hosted in the past 12 months, following the successful 2022 FIBA Women's Basketball World Cup – in which the Opals won bronze.
"We're incredibly honoured the best basketballers from across our region will make their way to Sydney to compete on our home soil," said chief executive officer of Basketball Australia Matt Scriven said.
"Following the success of last year's FIBA Women's Basketball World Cup, which saw us achieve record crowds in Sydney, we know women's basketball has a highly engaged audience in New South Wales and participation keeps growing.
"With our women's national team currently ranked second in Asia, this will be a fantastic competition and we hope all sports fans from around Australia will travel to Sydney to cheer on the green and gold and help create a lasting legacy for our sport."
Tiana Mangakahia was acknowledged for her exceptional game on Saturday, by being named the WNBL's Cygnett Player of the Round, by dropping 26 points, six assists and five rebounds (as well as hitting the game-winning free-throw).

🔗 https://t.co/PyhysNqKGE#FlameOn pic.twitter.com/R137W7e4CP

— Sydney Flames (@TheSydneyFlames) February 7, 2023
While Australia will be aiming to win their first-ever Women's Asia Cup Division A on their home soil, they have to dethrone Japan – who defeated China in the Women's Asia Cup final in Amman, Jordan at the 2021 Women's Asia Cup.
Japan have won five consecutive Women's Asia Cups, including defeating Australia in the 2017 edition in Bengaluru, India.
However, the all-time leader in Women's Asia Cups won is Korea, who has won the competition 12 times.
China is right behind with 11 Women's Asia Cup titles of their own.
The FIBA Women's Asia Cup 2023 Division B will be held later from 13-19 August 2023 in Bangkok, Thailand.