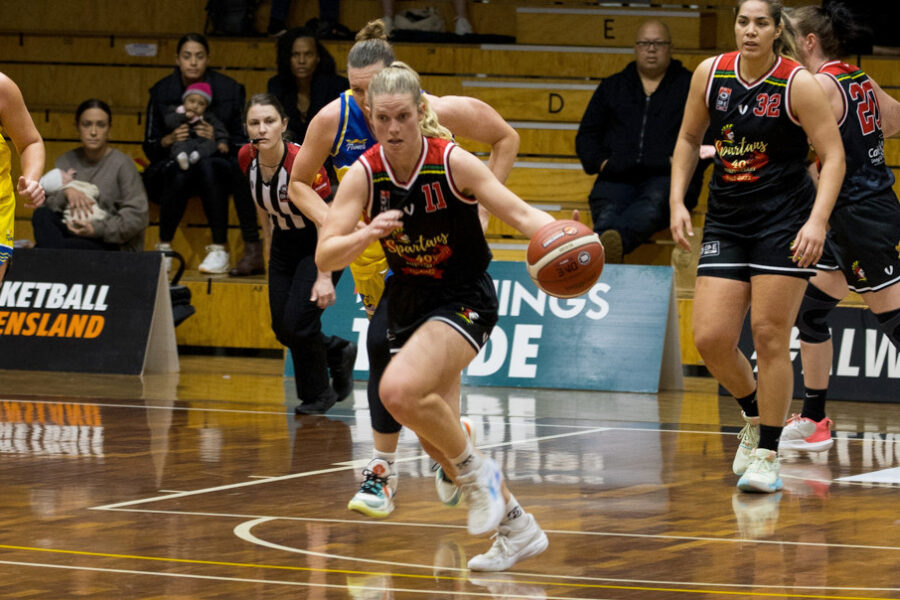 September 8, 2022 | Sydney Flames news
Just six teams remain in the hunt for the inaugural NBL1 women's national title and one of them is Southern Districts – headlined by Sydney Flames duo Maddy Allen and Kalani Purcell.
All six will descend on Melbourne this weekend for a three-day tournament, which will firstly pit the Spartans, who qualified through the NBL1 wildcard tournament, against Townsville – the team that ended their NBL1 North championship dreams in the semi-final.
"We had much higher hopes for our NBL1 North season, so to not get a chance to play for the championship was supremely disappointing," said Allen, who penned a deal with the Flames in August.
"In saying that, Townsville was exceptional against us and in the grand final series so it was always going to be a monstrous challenge to get passed them and into the grand final.
CLICK HERE TO GET YOUR FLAMES MEMBERSHIP
"Since then, we've taken that disappointment from the conference finals and have been honest about our shortcomings – we've just been working hard at training for the last couple of weeks so that we can really take advantage of the second chance opportunity.
"We're a tight-knit group so we've just tried to stick together and everyone has been working hard to get better.
"Defensively, we need to be so much better than we were – they [Townsville] shot incredible in the semi and we gave them a lot of open looks, so we'll be focusing on our rotations defensively, making sure we get to shooters and getting rebounds so we can get running offensively.
"They're a great team so we know we've got our work cut out for us but we're up for the challenge."
A win on Friday at the State Basketball Centre will boost the Sparatans' seeding for Saturday's three fixtures, ahead of finals day on Sunday – where the first-ever NBL1 national champion will be crowned.
"We're coming in as the underdogs being the wildcard team but we believe we can compete with the best teams in the nation, so winning would just be the ultimate reward for six months of hard work and redemption for the disappointing end to our conference season," guard Allen said.
"The Spartans women's program has a long history of winning on a state and national level so we would be extremely proud as a group to add a championship banner to the collection and be a part of the program's legacy."
Flames fans can watch the Spartans clash with the Fire here.