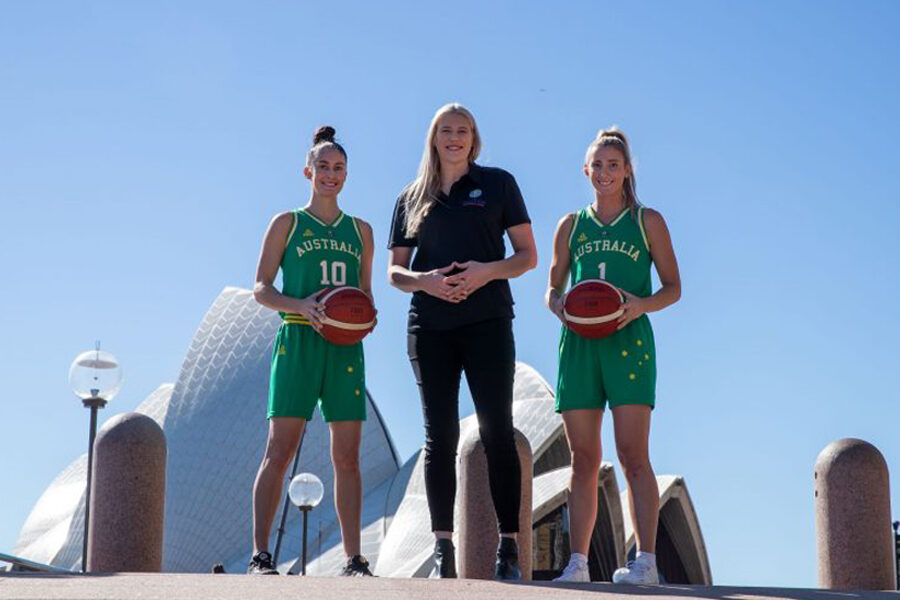 May 12, 2021 | Sydney Flames news
The FIBA Women's Basketball World Cup 2022 celebrated its 500 days to go milestone with the announcement of international basketball legend Lauren Jackson AO as its event ambassador and the launch of its NSW Legacy Program today.
The event's logo was also revealed in front of special guests at Hyde Hacienda Sydney this morning, representing Australia's heritage and spirit of unity in a design inspired by 14-year-old Aboriginal basketballer and artist Amarlie 'Marlii' Briscoe.
Briscoe created a stunning piece of Indigenous artwork titled 'My Story', representing everything she loves in her life, including her biggest loves – 'art', 'basketball', 'culture' and 'country'. These symbols of love from her artwork have been represented within the traditional basketball-shaped logo, which also features the newly launched FIBA Women's Basketball World Cup trophy.
As FIBA's flagship women's competition, the FIBA Women's Basketball World Cup 2022 is one of the most prestigious competitions in international basketball, featuring the world's best players from 12 of basketball's powerhouse nations across Africa, Americas, Asia & Oceania and Europe.
The FIBA Women's Basketball World Cup returns to Australia for the first time since the successful 1994 edition, and FIBA Secretary General Andreas Zagklis was pleased to see the event come to life through the creation of a meaningful brand and is looking forward to bringing one of their biggest titles to Sydney.
"FIBA is really looking forward to the world-class city of Sydney again hosting the FIBA Women's Basketball World Cup, 27 years after it was first held in the country when so many legendary players took part," Mr Zagklis said. "I extend my congratulations to 2006 FIBA Women's World Champion, Lauren Jackson, who will play an important role as event ambassador. Lauren has inspired a huge number of girls not only in Australia, but across the world, to play basketball and her contribution to the sport and her achievements are exemplary."
"With 500 days to go, today's milestones and the launch of this unique logo, inspired by a very talented young Indigenous artist, are both exciting steps towards next year's tip-off."
As the host nation, Australia is an automatic qualifier for the event to be held at Sydney Olympic Park from Thursday 22 September to Saturday 1 October 2022. The Tokyo 2020 Olympic Champions will also receive automatic qualification, whilst the remaining nations will be determined by international qualifying tournaments in February 2022.
NSW Minister for Jobs, Investment, Tourism and Western Sydney Stuart Ayres said hosting the world's best basketballers in Sydney would create significant benefit for the NSW visitor economy, provide entertainment for local and visiting fans, and inspire future players.
"I have no doubt the Australian public will be eager to soak up the atmosphere of this world-class sporting tournament featuring the best international female basketballers in Sydney, and I'm sure the participating nations will feel right at home throughout the competition," Mr Ayres said.
"We can't wait to stage this fantastic event as part of the NSW Government's 10 World Cups in 10 Years initiative, which supports our ambition for Sydney and NSW to be the events capitals of the Asia Pacific."
NSW Minster for Sport Geoff Lee said the $1 million investment into legacy programs, to be delivered by Basketball NSW, would focus on enhancing female, indigenous and multicultural participation programs before, during and after the tournament.
"With tournament ambassador and basketball legend Lauren Jackson AO having grown up in regional NSW, we have seen first-hand how important it is to provide opportunities across the State to empower participants to reach their potential," Mr Lee said.
"From delivery of a basketball-specific version of the Daughters and Dads Active and Empowered program, new 3×3 competitions and scholarships for aspiring female leaders in the sport, this investment will ensure people of all ages and abilities will have the opportunity to engage with one of the world's most popular sports."
Retired Opal and four-time Olympic medallist Jackson, who was part of the winning team at the 2006 World Championships, said the opportunity to compete in front of a home crowd next year would lift one of Australia's most successful sporting teams to an even higher level and motivate generations to come.
"I was one of the kids watching Oz '94, so I know how it impacted my desire to be an Opal one day and truly inspired me to take the next step, to see what I could see," Jackson reflected. "I remember thinking at that point, I am going to play for Australia one day. I am going to be the best, I am going to be doing that."
"The awesome thing about having a home World Cup is that it does inspire the next generation. All of a sudden you've got this next crew of kids that have seen this incredible pathway to the very, very elite – the best basketballers in the world on home soil.
"It's what every athlete dreams of – playing, representing their country and winning a World Cup on home soil, so it's the pinnacle of the sport. Looking back on my career, I would have always wanted to have played a World Cup at home. There is nothing better than being able to compete in front of a home crowd, it inspires."
The FIBA Women's Basketball World Cup 2022 is supported by the NSW Government through its major events and tourism agency, Destination NSW and the Office of Sport.