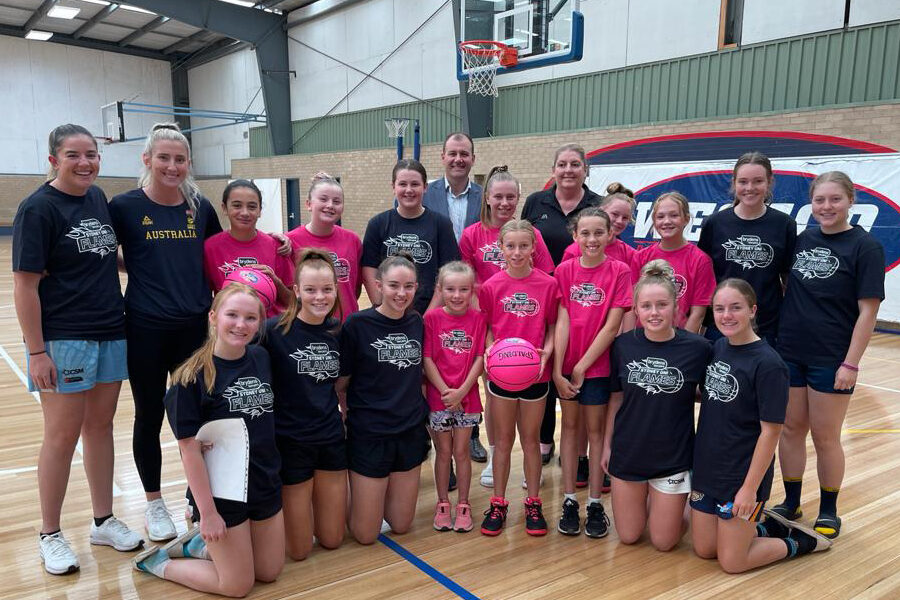 April 6, 2021 | Sydney Flames news
In a slam dunk for basketball in the Central West, female basketballers have trained with and learnt from Australia's best at the Brydens Sydney Uni Flames Her Flame Burns Bright basketball clinic in Bathurst today.
Her Flame Burns Bright featured a junior clinic, coaching clinic and leadership program presented by NSW local and former Flames player, Lauren Nicholson. The aim of the program is to increase female participation and retention in regional NSW.
The program, supported by the NSW Government, will be delivered in ten locations over the next three years to more than 2,000 female basketballers and coaches.
NSW Upper House MP Sam Farraway said the Her Flame Burns Bright program would play a vital role in nurturing and inspiring future athletes across the region.
"The COVID-19 pandemic and other natural disasters have caused massive disruption in the region, and community sport was not immune," Mr Farraway said.
"It is great to see here today so many young people getting the opportunity to learn from Australian Opals and Sydney Flames players whilst also having fun and being active in a supportive environment.
"You can't be what you can't see and this program will inspire our female players and invigorate women's basketball throughout the Central West."
General Manager of the Brydens Sydney Uni Flames Karen Dalden is excited to be launching the program in Bathurst and to have the opportunity of bringing our Opals and Flames role models to regional NSW.
"We would like to thank the NSW government for their support in enabling us to reach and impact our young regional female basketballers."
Minister for Sport Geoff Lee said the NSW Government was committed to supporting the drive for change in women's sport through programs like Her Flame Burns Bright.
"The NSW Government is breaking down barriers in women's sport," Mr Lee said.
"We are proud to support innovative programs like Her Flame Burns Bright which are getting more women and girls involved in sport, both on and off the field."
Her Flame Burns Bright supports the NSW Government's vision for the future of women's sport. The Her Sport Her Way strategy aims to increase female participation, invest in female-friendly facilities, maximise investment and increase the number of women in leadership.
For further information on Her Sport Her Way visit: https://www.sport.nsw.gov.au/hersportherway