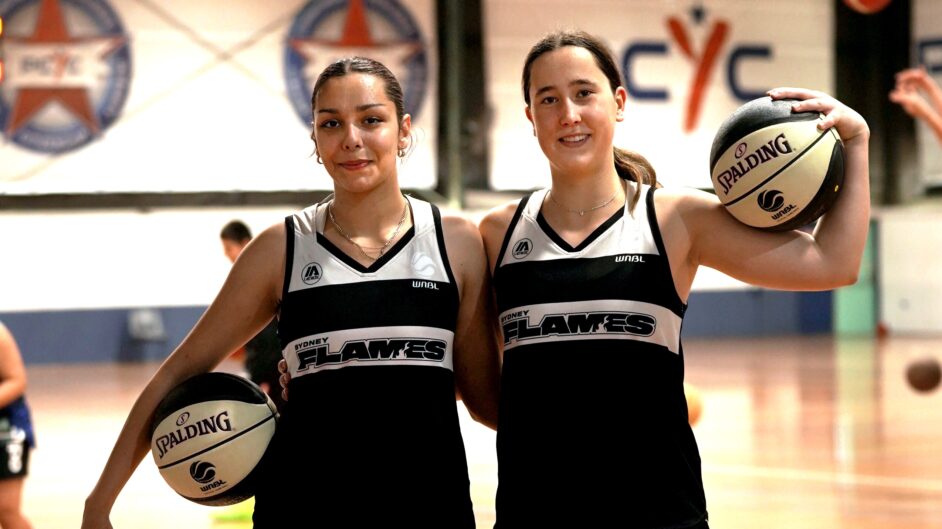 November 8, 2022 | Sydney Flames news
The Sydney Flames have bolstered their playing ranks for the WNBL23 season by adding young guns Jada Crawshaw and Emma Donnelly to the squad.
Seventeen-year-old duo Crawshaw and Donnelly join Shane Heal's side as amateur Flames alongside Lilly Rotunno and Indiah Bowyer.
Sydney Comets product Donnelly was selected to be part of the Hoops Capital family following the Flames' four-week trials.
"When the coaches offered me the position, I was overwhelmed with happiness and excitement," said Donnelly.
"I just had this amazing feeling that all my hard work had paid off and I had achieved one of my childhood dreams of playing for the Flames.
"On the way home, I called my sister to tell her and I was crying so much that she couldn't understand what I was telling her."
CLICK HERE TO GET YOUR FLAMES MEMBERSHIP
As Donnelly alludes to, she is now living out her hoops dream, with the Flames ramping up preparations ahead of this month's season tip-off.
"I have been a Flames fan ever since I was a little kid – my family and I would go to the games and the culture and players always inspired me, as I always hoped to one day be a part of it," she said.
"The fact I get the opportunity to be coached by Shane Heal is awesome, I have already learned so much from him and I'm so excited to keep learning and developing under him and the assistant coaches.
"Playing with players like Shyla [Heal] and Keely [Froling] who I have watched play for years is surreal and I'm so excited to compete with and learn from all of them.
"This season I want to be a sponge, learn and take in everything I can from all the experienced players and coaches.
"I'm looking to put my best foot forward and make the most out of every opportunity that I'm given to develop and take my game to the next level."
Similarly, Darwin product Crawshaw is thrilled to be given this opportunity with the harbour city-based outfit.
"When Shane offered me the opportunity to join as an amateur player, I was pretty shocked and could not believe it," said the Barker College student.
"After realising what this opportunity could offer me, I become both nervous and excited, as I've always aspired to play in the WNBL – in particular the Flames, as they are my local team,"
"They are a young and exciting team who I believe could strongly help my basketball develop to a much higher level before leaving for college in the United States."
As the Sydney Comets junior alludes to, she believes joining the Flames can be the perfect springboard for her young career moving forward.
"As well as building new friendships in the senior levels of the sport, I believe being part of the Flames can help my basketball to develop into a more versatile player and have greater understanding of the game," she said.
"Working with high-level coaches and being surrounded by experienced and knowledgeable players this season, I'm confident will help improve my game play and skills so that I can compete at the college level next year and build for the future."
PHOTOS: WEEK SIX OF WNBL23 PRE-SEASON
Coach Heal congratulated both players for their selection into the Flames squad and looks forward to working with them in season 2022-23.
"Both girls earned their selection and will add a lot to our group this season – helping add depth across the board along with Lilly and Indiah," Heal said.
"Emma is a solid player with a huge potential to grow into a serious pro here in Australia – she's versatile, has a strong body type and can shoot the ball well.
"While Jada, having only played the sport for a couple of years, is really only scratching the surface of what she can become on the court – I could not be more impressed with her athleticism and ability to play with a physical presence.
"I have no doubts both players will develop significantly during their time with us, which will especially help prepare Jada for college next year.
"Here at the Flames, we're committed to investing time and resources into our athletes, to help them grow into the players we know they can be in the professional sphere."