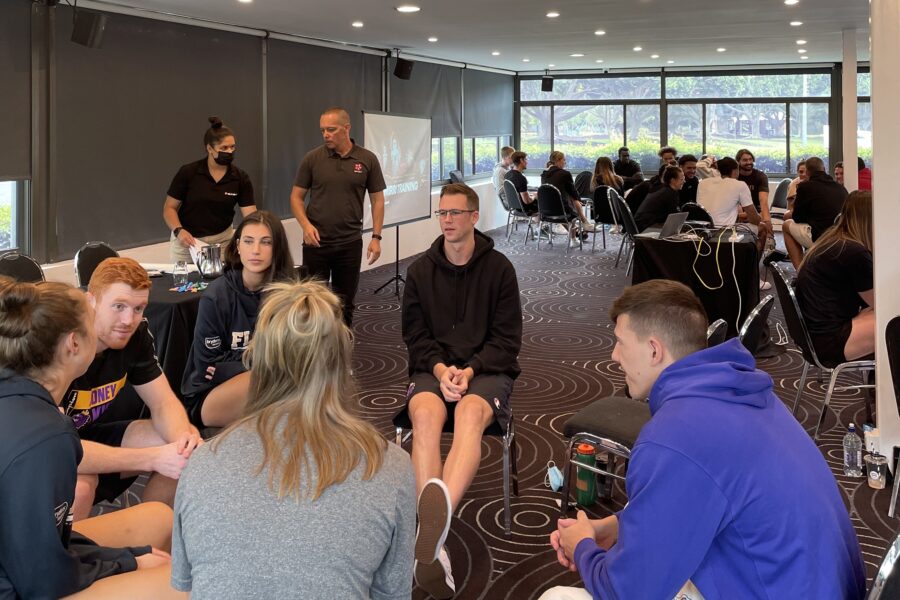 February 28, 2022 | Sydney Flames news
Hoops Capital, the Brydens Lawyers Sydney Kings and Brydens Sydney Uni Flames are committed to reconciliation and celebrating Aboriginal and Torres Strait Islander peoples as the Traditional Owners of our nation.  
Our first Reconciliation Action Plan (RAP) was launched in 2020 and provides a foundation that we intend to build on as we focus on the meaningful difference we can make to Aboriginal and Torres Strait Islander peoples. 
One of the key objectives of the RAP is to ensure it is embraced by everyone in our business and that the knowledge we gain inspires our staff and players to reflect, appreciate and make a difference during their time at the Kings and Flames and in their future beyond our organization. 
Recently the players and coaching staff from both the Flames and the Kings participated in an Indigenous Cultural Education session designed to engage both teams in multiple activities learning about Indigenous culture, lifestyle and issues. 
The program highlighted how little most Australians know about the Traditional Owners of this land.   
One of the activities was asking small groups of players to identify three words for hello and goodbye in foreign languages. 
All teams were successful in naming three different words like ciao, bonjour, kia ora for example. 
Then they were asked to do the same but for Aboriginal languages. Many of the groups struggled to come up with three Aboriginal words. 
The players and coaches came away from the experience with a newfound knowledge of Aboriginal culture and how we can better support our Indigenous communities.  
Another activity was the teams learning a cultural war dance.  
The Hoops Capital's Director of Community Trish Crews has worked with the program provider Mirri Mirri previously and she spoke about the benefits of the program and what the players and coaches learnt from it. 
"Both teams really enjoyed the session saying that Paul Sinclair [co-founder of Mirri Mirri] and the team were incredibly engaging and fun," she said. 
 "Running cultural awareness training for players and staff is an integral part of our Reconciliation Plan and something we intend to do and build on every year. 
 "Most importantly, they learnt a lot." 
Kings guard Shaun Bruce took away a lot from the program. He spoke about how it changed his perspective.  
"The biggest thing was the perspective, what it is like to be an Indigenous Australian," he said. 
"Paul [Sinclair] did a great job in the session, just engaging us and making us more educated. Understanding our history and a bit more history of our Indigenous people. 
"He helped us learn the history through Indigenous perspectives as well as engaging our perspectives and experiences. It was a three-hour session but it really didn't feel like that, it was a lot of fun."  
The Kings will play their Indigenous Round home game against the Cairns Taipans on Sunday, March 6 at 2.45pm at Qudos Bank Arena.