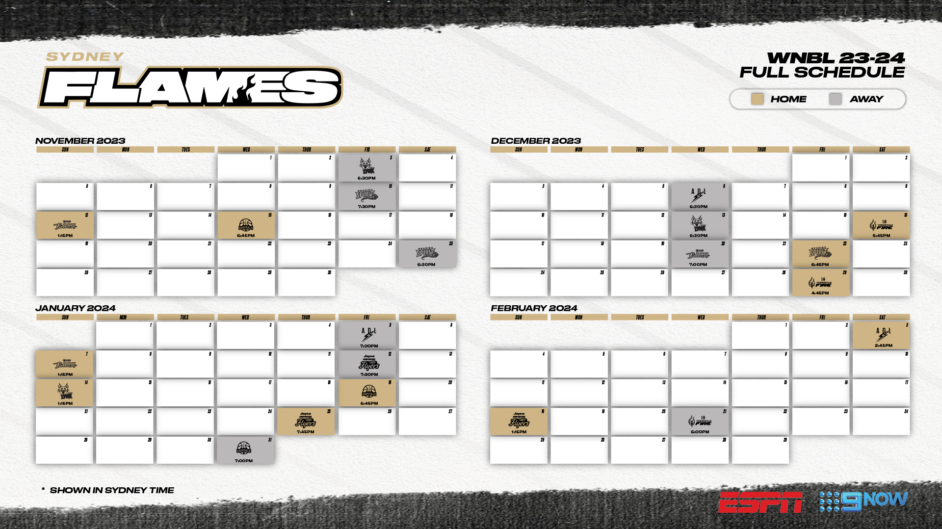 July 12, 2023 | Sydney Flames news
The WNBL has officially unveiled its schedule for the 2023-24 season which will see the Flames host 11 of its 21 fixtures in Sydney – including four blockbuster double-headers with the Kings at Qudos Bank Arena. 
The first of those four double-headers will coincide with the Flames' first game in Sydney, when the Hoops Capital outfit hosts Melbourne from 1.15pm on Sunday, November 12 – with the Kings to follow at 3.45pm against Brisbane. 
Then three days later, the Flames will play their first game at Quaycentre for WNBL24 against rivals Canberra from 6.45pm. 
The harbour city side's other three Hoops Capital double-headers will take place on December 29 (vs Townsville from 4.45pm), January 7 (vs Melbourne) and Perth (January 14) – with the latter two tipping off at 1.15pm. 
"Flames fans should be excited for the star power that is coming to Sydney this year," Flames president Victoria Denholm said. 
"Some of Australia's greatest women's basketball players will be suiting up for the Flames this season – including hometown hero Lauren Nicholson, Opals captain Tess Madgen and Las Vegas Aces superstar Cayla George. 
"Quaycentre is the Flames' headquarters – the arena is so much fun, and the energy is contagious.  
"Our Flames feed off our energy – so be prepared to cheer loudly!  
"[Further to that] our double-headers, including our Pink Hoops event, are a real opportunity for Flames and Kings fans to come together and celebrate the Hoops Capital." 
The revamped Flames will tip off the exciting new WNBL24 campaign in Perth on Friday, November 3 before heading to Bendigo seven days later to play the Spirit. 
Sydney will then return to the harbour city for a two-game home stand (against Melbourne and Canberra) before hitting the road for three straight encounters against Bendigo (November 25), Adelaide (December 6) and Perth (December 13) – with a round five bye mixed in there too. 
After that three-game road trip, nine of the Flames' next 13 matches will be played at Homebush, starting with the Saturday, December 16 showdown with Townsville at Quaycentre. 
Following a quick trip to Melbourne on Wednesday, December 20 to face the Boomers, the black and silver will return to Quaycentre on December 22 for their annual Christmas fixture – which will pit them against the Spirit. 
One week later, the Flames are back on court, this time locking horns with the Fire at Qudos Bank Arena, as part of the second Hoops Capital double-header of the season – with the women at 4.45pm and men against Cairns at 7.15pm. 
The Flames' first fixture of the new year will be in Adelaide on Friday, January 5 before returning home to Qudos Bank Arena, to face Melbourne two days later – once again being the opening game of the Hoops Capital double-header at 1.15pm before the two-time reigning NBL champions hit the court at 3.45pm against Brisbane. 
The Flames then jet off to Melbourne on January 12 to face Southside at the State Basketball Centre. 
A three-game homestand then awaits Sydney against Perth (January 14 at Qudos Bank Arena), Canberra (January 19) and Southside (January 25) – with the latter two at Quaycentre. 
A trip to Canberra to face the Capitals then awaits the four-time WNBL champions on January 31 before they end the regular season with a pair of home games at Quaycentre against Adelaide (February 3) and Southside (February 18) and one road fixture at Townsville on February 21. 
With the full fixture list now live, Denholm has outlined which games in Sydney she's most looking forward to. 
"I have circled when the Melbourne Boomers coming to town, as there is a little, fun rivalry now with Cayla George and Tess Madgen coming to us from there and our captain from the past two seasons Keely Froling heading down there," she said. 
"Another is when Townsville comes to town – we always love the chance to beat the defending champs.  
"They will be tough with their new look lineup including Sami Whitcomb and Alice Kunek.  
"Our new recruit Loz Nicholson will surely have a big game playing against her former club." 
Stay up to date with all the club's off-season news here.