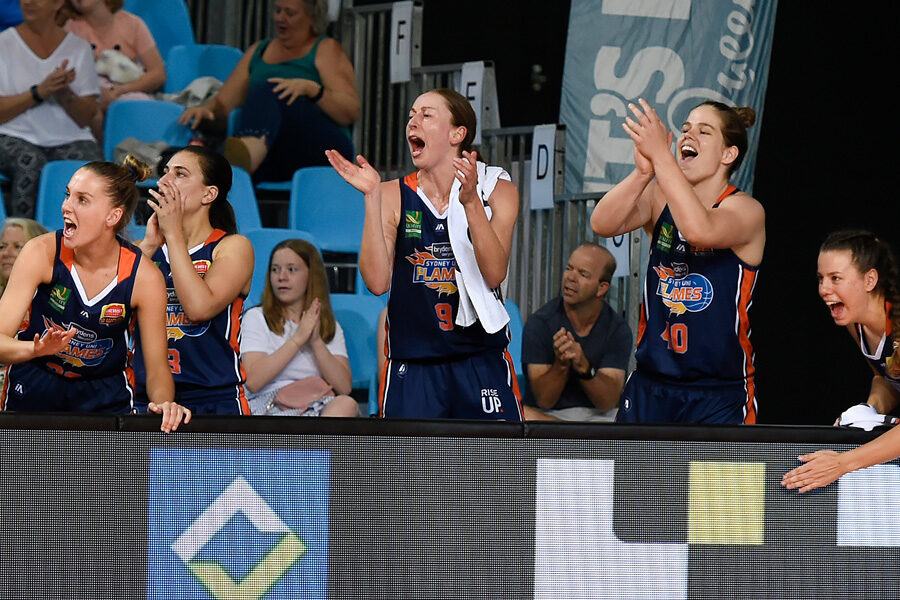 December 6, 2020 | Sydney Flames news
Match report via wnbl.basketball
The Brydens Sydney Uni Flames have mustered up a huge second half effort led by Christina Boag to steal the win over the Bendigo Spirit this afternoon, 62-54.
The Flames started strongly to open Super Sunday of WNBL, with all eight teams in action and led by 12 just before quarter-time against the winless Spirit at Cairns Pop-Up Arena.
However, Bendigo got rolling leading into half-time going on a 13-0 run and then keep it going to start the second half with the opening five points. After Sydney Uni led 26-20, the Spirit had scored 18 of the next 23 points to be in control leading by seven.
They couldn't maintain it, though, and with Ali Schwagmeyer-Belger refusing to let her team give up on any possession and then Christina Boag delivering her best performance of the season, the Flames took charge the rest of the way to end up winning by eight to end a three-game losing run.
The Flames improve to 3-7 on the season as a result and Boag had a huge say in the eight-point win. She had more than proven herself a WNBL player previously, but struggled for time so far in 2020. She had only scored 17 points in total coming into Sunday but delivered 16 points and six rebounds.
"It was probably our hardest game yet and we didn't play well, so kudos to Bendigo for that," Boag said.
"We weren't ready to play to start. It has taken me a bit too long to find my rhythm this season, but I'll definitely take that one. It's nice to play some good basketball for once."
Schwagmeyer-Belger was inspirational too with 15 points, nine rebounds, three assists and three steals. Lauren Mansfield might have missed her first 12 shot attempts but nailed a dagger three late and had seven assists.
Lauren Scherf added seven points and six rebounds for Sydney Uni, and Nat Burton six points, seven boards and four emphatic blocks.
The Flames took control of the contest midway through the opening quarter with Schwagmeyer-Belger setting the tone with a three-pointer and and-one play. When Funda Nakkasoglu drained a three, they led 21-9 but on the urging of coach Tracy York, the Spirit locked in.
That led to a stunning 13-0 run during the second quarter for Bendigo as they displayed their potential. They led by seven and still by two at the half despite five late Schwagmeyer-Belger points for the Flames.
Lavey ensured Bendigo remained on top early in the second half with the lead back out to seven, but that was as good as it got. The Flames closed the third quarter with the last seven points to tie scores up.
They then made a run of eight straight points in the fourth period capped off by a Mansfield three on her only made basket of the game which ultimately proved the dagger in the eventual win.
The Flames are next up against the Perth Lynx in Townsville on Tuesday.
Brydens Sydney Uni Flames – 62 (Christina Boag 16, Schwagmeyer-Belger 15, Scherf 7)
Villawood Properties Bendigo Spirit – 54(Lavey 17, Ernst 12, Goulding 7)