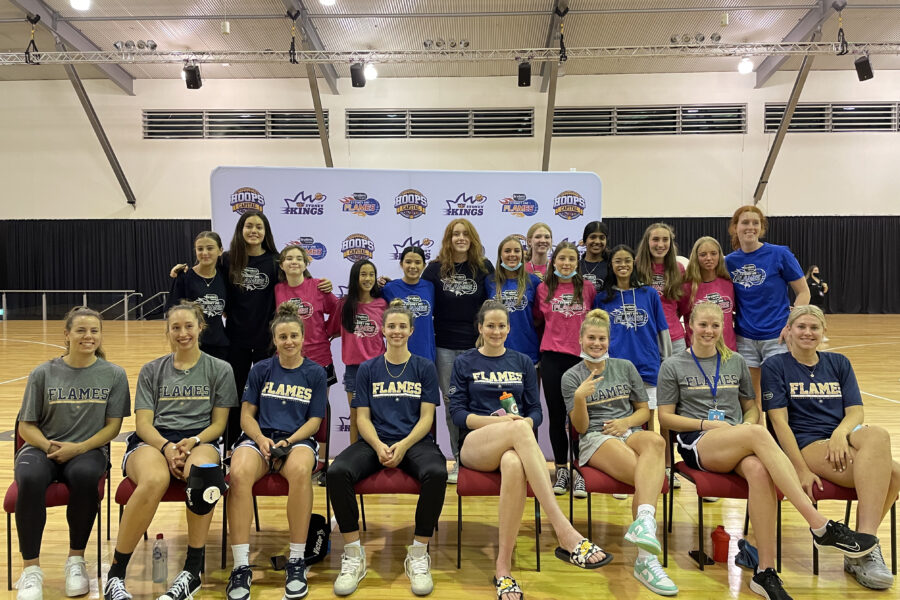 March 18, 2022 | Sydney Flames news
The Brydens Sydney Uni Flames have been focused on introducing the community to the WNBL.
The Brydens Lawyers Flames Community Program was designed to promote basketball and women's sports at the grass-root level.
Throughout the season the Flames have had a girls 'Team of the week'.
In each of our double headers with the Kings and Flames, the teams have invited a girl's junior basketball teams to experience the best of both men's and women's sport.
The team of the week was given merchandise and was offered to be a part of the game-day entertainment.
The girls also met the players and were involved in Q&As with the players, where the players spoke on what it takes to be a professional player, sharing stories from their careers, how important consistent training is and how they looked after their bodies with exercise and diets.
The Director of Community Trish Crews says the challenges of facilitating community events through COVID restrictions has been a difficult task.
"Covid has limited our ability to interact with anyone face to face which has severely impacted what we can deliver," she said.
"We did find some ways to adapt late last year by zooming into some primary school classrooms and lately holding socially distanced meet and greets post game.
"Both have been a huge success and players loved the opportunity to give back in person, but in a slightly moderated way."
Having the Team of the Week has been a highlight to give the community access to resources and role models, which were especially needed after the hardships of COVID. Crews explained why access to these players is important.
"Sport can teach so many life lessons that our players can deliver to children and adults in a powerful way," she said.
"Without personal connection and access, this opportunity is really limited."
She also explained how important it is especially for children.
"Children who get the opportunity to have this behind the scene access and interaction with players feel very privileged and special," she said.
"This is really important after a couple of difficult years for everyone.  They can also see that players are human, just like them and others in their life.  They get to understand that WNBL and NBL players started out somewhere as a child in sport, the same as they are."
At the end of March, the Flames will be travelling across NSW to work with many more communities through the Brydens Lawyers Community Program. Details will be announced at a later date.