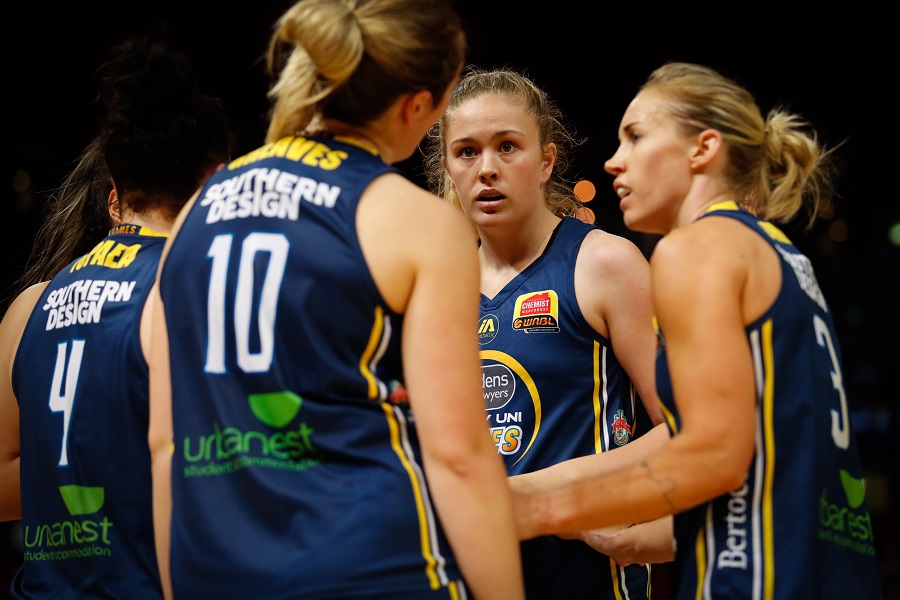 November 30, 2018 | Sydney Flames news
Maddy Norris, Sherrie Calleia, Alex Delaney and Kimberly Hodge.
These are the names of four young basketballers who are current members of the Brydens Sydney Uni Flames development squad.
While the loss of Alex Wilson to a season-ending knee injury last weekend will undoubtedly be a huge blow to the already struggling Flames, the situation affords these four players a huge opportunity.
Each a formidable talent in their own right, Maddy (pictured), Sherrie, Alex and Kim hail from different associations across the state of NSW and bring a number of strengths to the Flames roster.
While Sherrie Calleia from Hills excels as a point guard, Alex Delaney (daughter of Championship-winning Flame and WNBL Life Member, Gail Henderson) is a versatile player who can slot seamlessly into varying positions on court.
At 23-years-old, Alex will make her WNBL debut in the Flames clash against Bendigo tomorrow night.
The Sydney Comets talent played with St. Francis College Brooklyn for her University career and joined the Flames development squad upon her return to Sydney.
"Sydney is my home and it has been such a cool experience being a part of a team that represents my home city," she said.
"Mum played for and won a championship with the Sydney Uni Flames so I have grown up watching the Flames which makes being a part of the program that much more special."
"I'm honoured to have been given this opportunity by the coaching staff to be welcomed into the team and be able to practice alongside some great players."
Coach Cheryl Chambers echoed Alex's excitement.
"Alex comes with real experience from the US College system and has a good basketball IQ," she said.
"She is a versatile player who can play numerous positions and has a deadly three-point shot."
Chambers also commented on Sutherland's Maddy Norris calling her an "exciting new talent who does not shy away from a contest."
A "prolific shooter and dynamic offensive threat," Maddy's size and strength came in handy during the Flames Round 3 clash against Townsville and beyond.
She also noted Sherrie and Kim's dynamism and eagerness to learn.
Kim who comes from Manly has had some experience playing this season, herself emphasising the value of the experience.
"Being a development player is an unparalleled experience and one that I am very grateful," she said.
"It challenges and extends my game through extensive training with some of the country's best players and coaches."
We look forward to seeing the girls basketball careers grow further, beginning tomorrow at Brydens Stadium when the Flames take on Bendigo, tip-off at 5pm! Tickets available HERE.