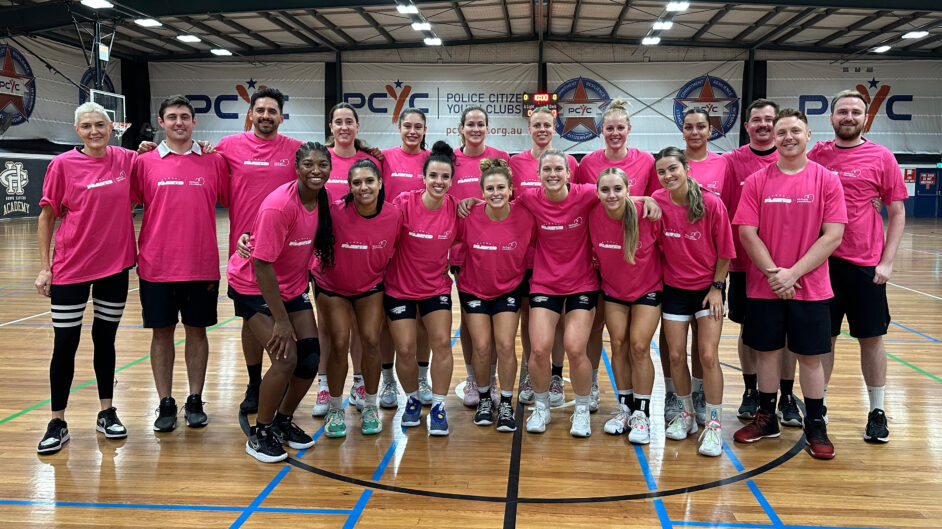 February 23, 2023 | Sydney Flames news
Friday night's first-ever Sydney Flames Pink Game is set to be a big one in more ways than one.
Not only will it be the Hoops Capital club's first-ever Pink Game, which will see them partner with the McGrath Foundation, but it will also mark their final home game in Sydney for the WNBL23 season.
As such, it's an occasion at Quaycentre Flames skipper Keely Froling and her side are thoroughly looking forward to.
"The Pink Game is so exciting and special," Froling said.
"It's great to have the backing of the club and community in support of a great cause.
"Especially because it's so close to T [Tiana Mangakhia] it's especially for our team to bring awareness to a serious issue and help out in a small way."
CLICK HERE TO GET YOUR FLAMES TICKETS NOW
The round 15 fixture against Adelaide, tipping at 7pm AEDT, will see the harbour city side turn the Quaycentre pink and make needed donations to The McGrath Foundation – which can be done via this link.
Further to that, Sydney's sponsors will be chipping in $550 to the McGrath Foundation for every three-pointer made by Shelley Gorman's side.
View this post on Instagram
The whole goal of this matchday, along with raising awareness, is to help The McGrath Foundation achieve their goal, which is highlighted in the mission statement.
"The McGrath Foundation's mission is to ensure that no one goes through breast cancer without the care of a breast care nurse.
"McGrath breast care nurses help individuals and their families affected by breast cancer by providing invaluable physical, psychological, and emotional support, from the time of diagnosis and throughout treatment – for free.
"We made a commitment to reach 250 McGrath breast care nurses by 2025. To do this we need 57 more nurses, while also continuing to fund our existing nurses each year.
"Help make this Sydney Flames Pink Round a special one by supporting the team and donating to ensure no one goes through breast cancer without care."
DONATE TO THE MCGRATH FOUNDATION NOW
Combining all that with the chance for the Flames to end their 2022-23 home matches on a high is exciting for Froling.
"It's been a tough year as a captain but to do something like this to support T is special and shows how close this group is," said the 27-year-old, who took out the club's WNBL23 Most Inspirational Player award on Tuesday.
"We all have each other's back and the group that's playing now is so tight and together so we're keen to show our home fans one last great game in pink."
Tickets to the game are still available here.