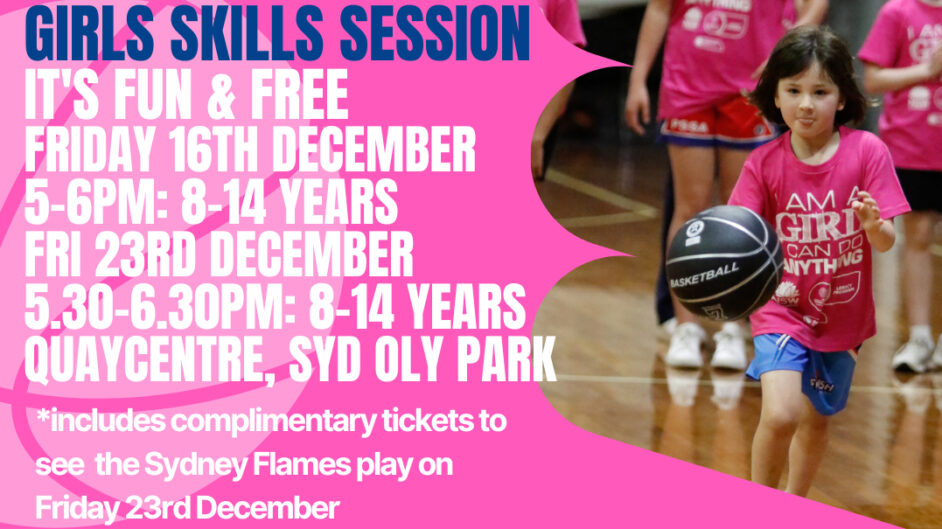 December 6, 2022 | Sydney Flames news
The Sydney Flames and Basketball NSW will be holding two I Am A Girl come and try sessions during the upcoming summer holidays
The two free girls-only sessions is aimed at new or returning basketballers (aged 8-14 years) that want to learn some new skills, be active and have fun making new friends. 
Held at Sydney Olympic Park's Quaycentre, the first of the two sessions will be held on Friday, December 16 from 5-6pm – with the second seven days later (at the same venue) from 5.30-6.30pm).
To register your interest in the free sessions, please visit here.
As a special gift from Hoops Capital, all camp attendees and their guardians will be able to access tickets to the Flames' match against the Canberra Capitals on December 23 from 7.15pm.
Registrations will close midday Thursday preceding the clinics or sooner if capacity is met.
The I Am A Girl Program is supported by the NSW Government's strategic focus on women and girls in sport through the #HerSportHerWay program and is a part of the overall NSW legacy program pillars with a number of activations being rolled out as part of the FIBA Women's Basketball World Cup 2022 with the Office of Sport.