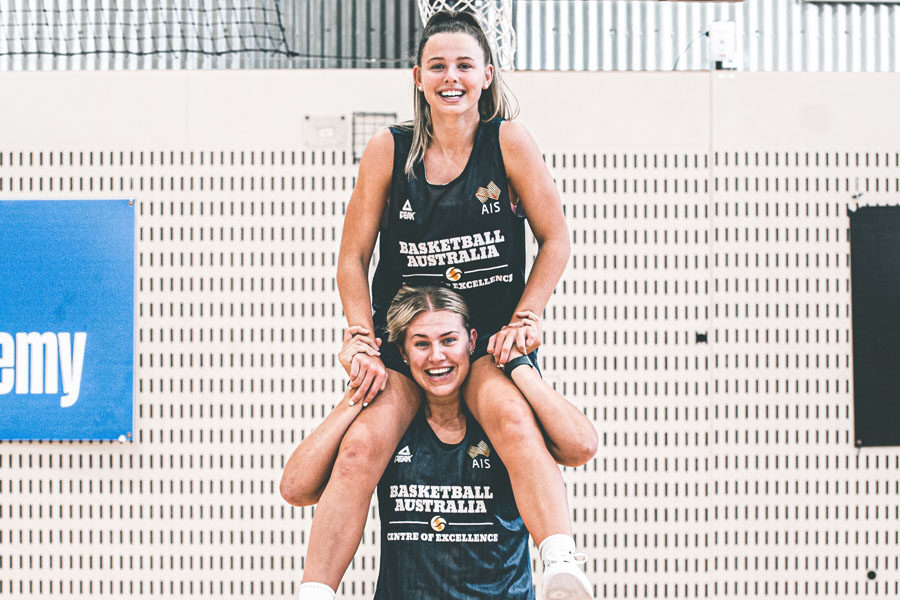 July 31, 2021 | Sydney Flames news
The Brydens Sydney Uni Flames have locked in an important duo of talent with Katie Deeble and Chyra Evans both signing with the Club to round out the remaining two roster spots for the upcoming 2021-22 WNBL season.
The talented pair are both currently completing Year 12 at the Centre of Excellence (CoE) and will maintain their amateur status this season, with the two of them both intending on pursuing college careers.
Register your interest to become a Flames member in WNBL21 here.
Most recently, Deeble and Evans have both been named in the 12-women squad who will be chasing gold at the 2021 FIBA Under 19 Women's World Cup in Hungary which tips off in the coming two weeks. The two of them will fly out with their Gems teammates this weekend.
Head Coach Shane Heal is looking forward to welcoming the young guns into the group after they have completed their school commitments later this year.
"We are building a roster for the future and prepared to develop young players at the Flames" Heal said.
"I'm excited that we have attracted two of the very best junior players in Australia and both out of the CoE".
"Katie Deeble is one of the very best junior guards in the country and we are bringing her in to learn and play behind Shyla. I believe in her and know that Katie has tremendous upside and will be a future star of the WNBL".
"Chyra Evans is from Newcastle and we are very happy to be bringing her to Sydney to learn alongside Keely Froling. Chyra is a very talented big that plays with a high IQ".
"I'm confident that both ladies will develop into experienced pro's, and we are excited that they have chosen the Flames to call home" Heal said.
A NSW local, Evans played all of her junior basketball with the Newcastle Hunters. Earlier this year she helped carry NSW to their first Australian U20 Championship where she was named player of the tournament after averaging 19 points and 8 rebounds per game.
Deeble joins the Flames after an impressive junior career in Queensland. An undersized guard with electric speed, she has represented Australia at every Championships from U15's through to U19's.
Deeble and Evans complete the Flames roster for the upcoming WNBL season. They join Shyla Heal, Lauren Mansfield, Keely Froling, Leaonna Odom, Steph Watts, Bec Pizzey, Kiera Rowe, Kalani Purcell, Emma Mahady and Funda Nakkasoglu as contracted players for the upcoming season.
Register your interest to become a Flames member in WNBL21 here.
Photo credit: Floyd Mallon