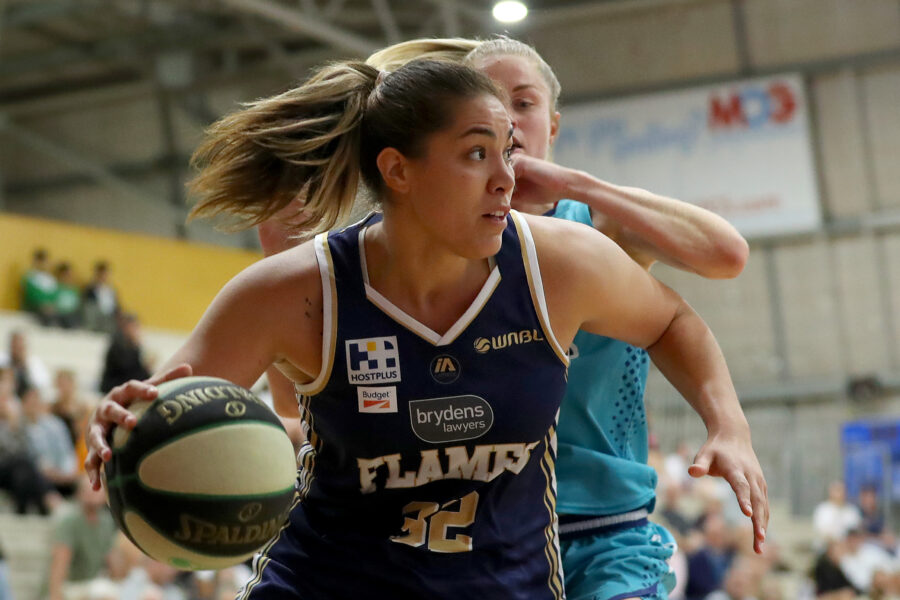 March 10, 2022 | Sydney Flames news
The Brydens Sydney Uni Flames have made it two wins in a row, beating the  Southside Flyers to start their Victorian road trip tonight.
In what was Jenna O'Hea's last home game for the Flyers, the young Flames once again put their hearts on their sleeves to get the win 68-66.
Keely Froling started strong with 10 first-quarter points. The Flames came out quietly but roared through the rest of the quarter, scoring 21-15 against the Flyers.
Froling was the star of the night for the Flames. She had her second straight double-double of 21 points and 10 rebounds.
Coming back from injury Shyla Heal did not miss a step, scoring 14 points and throwing out three assists in a tough fight in Dandenong.
The Flyers came back from the quarter-time huddle strong with O'Hea leading by example. Their captain had their team going and the Flames were ready to take on the challenge.
In a battle of future Opals guards, Maddison Rocci was going head-to-head with Shyla Heal. Rocci was the momentum shifter in the first half, with pushing the pace, steals and clutch buckets the Flyers were creeping ahead.
Kalani Purcell was unsurprising spectacular, with her all-around effort of 12 points, 13 rebounds, five steals, three assists and one block. She had the hustle and heart to inspire her teammates to get the win.
The third quarter was a battle for the Flames, nothing could go right but they still kept within distance. The Flames relied on Heal to control the ball while the rest of the Flames orbited around her.
Kiera Rowe and Katie Deeble were bright spots later in the match, giving the team a needed boost. With a timely three late in the third quarter from Funda Nakkasoglu, the Flames took back control.
It was a team effort in the late stages of the game, and Deeble, Rowe and Nakkasoglu were energetic and played well with hard-nosed drives and defence.
Shyla Heal fouled out with 100 seconds left on the clock and development player Deeble stepped into the finishing line-up to try to close out the reigning champions.
Coming down to the final seconds Nakkasoglu made one of two free throws and the Flames defence survived a last-second scoring attempt from the Flyers.
The Flames had 23 turnovers to the Flyers 15, it was a big deficient to overcome but the Flames have made it two wins in a row.
The Flames will take on the Bendigo Spirit on Saturday, March 12 at 5pm on Fox Sports.