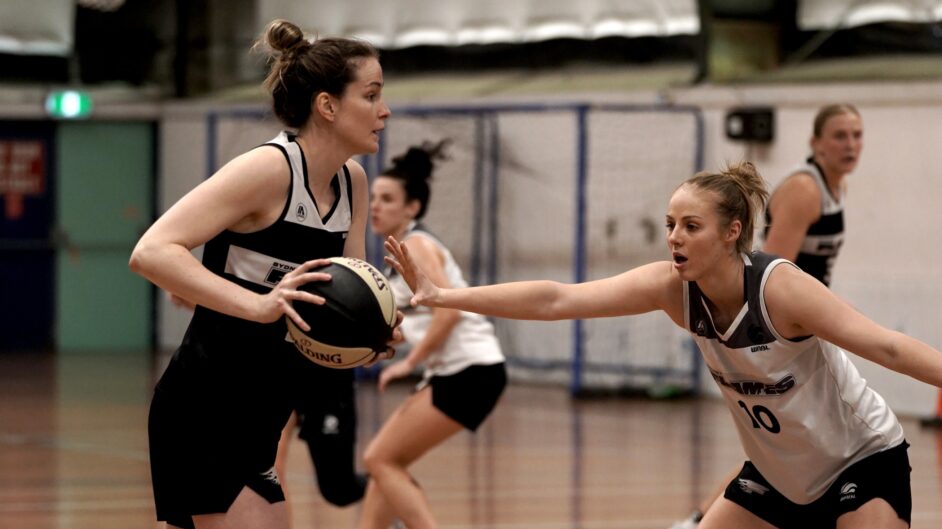 October 18, 2022 | Sydney Flames news
Australian Opal Keely Froing has been named the Sydney Flames' captain for the WNBL23 season.
Twenty-six-year-old Froling, who is in her second season with the Hoops Capital side, is excited to lead the revamped Flames side into the upcoming season.
"It's really exciting to be named captain and it means a lot to me that the coaches have put their faith in me to lead this group," said Froling, who was co-captain last season alongside Lauren Mansfield.
CLICK HERE TO GET YOUR FLAMES MEMBERSHIP
"With such a young group, I know I have quite a big task in front of me to lead but I know everyone is behind me 100 per cent.
"I learnt a lot from doing the job alongside Lauren last season, as we faced a lot of adversity as a group, which will no doubt put me in a stronger position this season, in terms of staying poised on the court and keeping the group together as one cohesive unit.
"It's a huge honour and one I'm going to give my all, as this club has a really special and rich history.
Joining Froling in the leadership group will be Vanessa Panousis, Jocelyn Willoughby and Kalani Purcell.
"I'm really lucky to have Ness, Joce and Kalani support me this season – they've all got plenty of experience from throughout their career which we will be able to use this season," said the Townsville product, who admits she's been lucky to be surrounded by many great leaders during her basketball career.
"It's not about one person being a leader, it's about every single one of our players doing their bit to make this team the best it can be."
Coach Shane Heal believes Froling is the best person to lead his squad back to the WNBL finals during the 2022-23 campaign.
"Keely did an exceptional job under really trying circumstances last season during her first time as captain, so we thought there was no one better to lead us on and off the court in WNBL23 than her," Heal said.
"Looking ahead, this year we've got plenty of players that can support her in different ways on the court.
"From WNBA player Jocelyn, who compliments her elite talent with high IQ, to someone like Kalani, who's been around a while and played at a high level all around the world, that is crucial to our culture to Vanessa, who's provided great energy and work ethic since she arrived and is quintessentially the leader of our second unit.
"With all that being said, I'm extremely excited about the level of leadership we have across our young group."
The Flames' WNBL23 season tips off on Saturday, November 12 in Bendigo before Sydney's first home game against the Spirit on December 4.