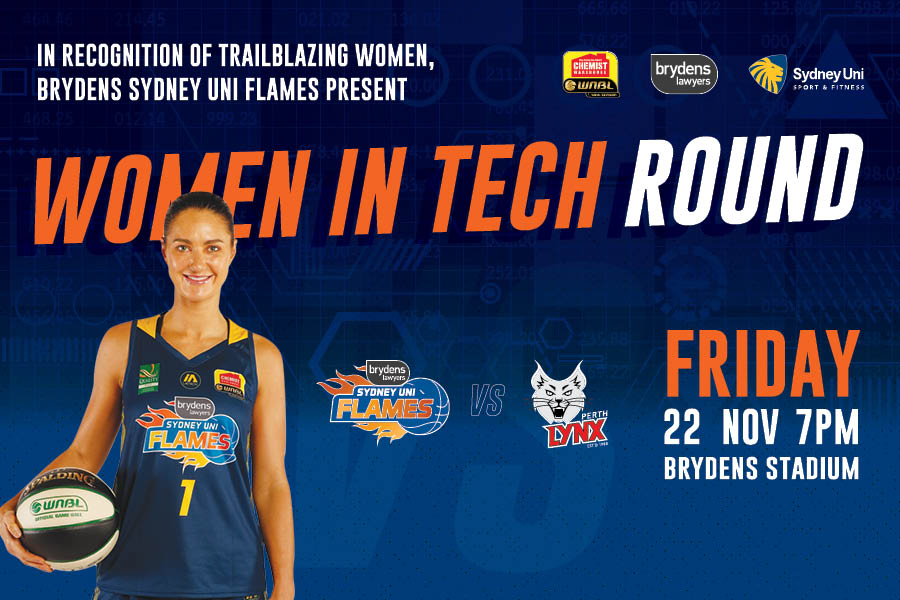 November 15, 2019 | Sydney Flames news
The Brydens Lawyers Sydney Uni Flames are proud to present the first Women In Tech round held by any professional sports team in Australia when the Flames step up to face the Perth Lynx on Friday November 22.
"When we started talking about this initiative, we quickly realised Women in Tech and Women in Sport face a lot of the same challenges, it's important we recognise that and stand together", said Brydens Lawyers Sydney Uni Flames General Manager, Karen Dalton.
The long-term goal for the Sydney Uni Flames is to partner with tech organisations to develop meaningful skills exchange programs.
CEO and Founder of ID Exchange Joanne Cooper said: "Building high performance teams is art and science. I think there are lessons the business world can learn from teams like the Sydney Uni Flames and business can bring commercial skills to the team particularly when players transition from the sports world to the commercial world."
Katrina Hibbert, coach for the Sydney Uni Flames, added: "The approach we use to build a team can be easily transferred to commerce. The skills are different but the parts that make up a strong, cohesive team are the same."
Recently Emma Jones, founder of Project F and Men Championing Change, invited the Flames to speak at the 2nd Anniversary of Men Championing Change event held at Canva's Surry Hills offices. This gave the team an opportunity to discuss the challenges of Women in Sports to an audience of executives and staff from companies like ID Exchange, Telstra, WooliesX, Gumtree and Deloitte who are trying to break down the same barriers in the tech world.
Flames Forward Shanae Greaves said: "It was great to hear senior executives talking about all the things they do to make a difference for women in the tech industry. It was eye-opening to see accountable actions being put in place to advance opportunities for women. I'd love to see strong connections built between the team and the tech industry."
Dalton added: "The most immediate contribution the Flames can make to Women In Tech is our team building program. We work with businesses to tailor a program for their needs and then work with players and coaching staff to achieve their goals before we get them to put it all into action with us at Brydens Stadium."
The game will take place at Brydens Stadium in the University Sports & Aquatic Centre in Darlington on Friday November 22. Tickets are available here.
Contact:
Karen Dalton – General Manager Brydens Lawyers Sydney Uni Flames
0411 397 530