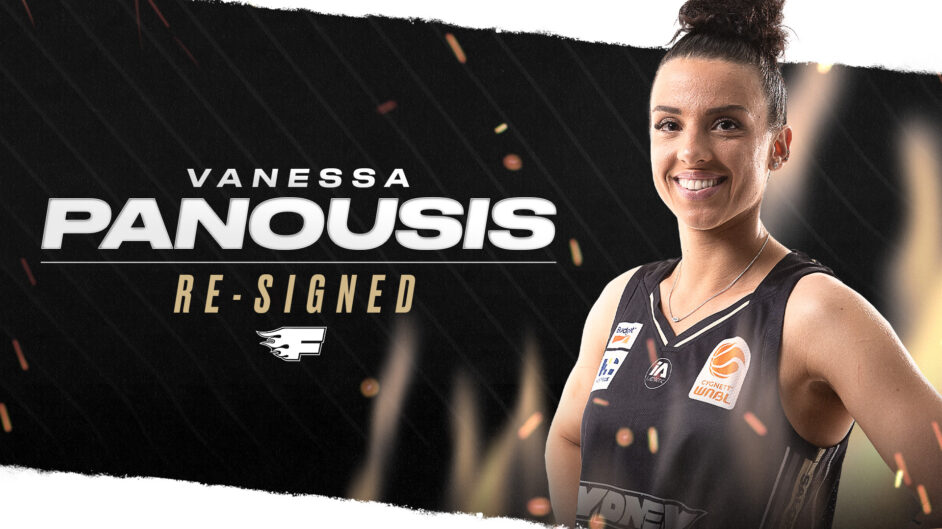 June 23, 2023 | Sydney Flames news
The Flames are excited to announce the re-signing of Sydney product Vanessa Panousis for the WNBL24 season.
"I decided to return to the Flames because of the culture that they are building here – not to mention the whole Hoops Capital direction is really impressive," said Panousis, who averaged 3.8 points, 1.8 assists and 1.1 rebounds in WNBL23 with the Flames.
"The group they are starting to get together is exciting and it was just an opportunity that I couldn't pass up.
"Having Opals players like Cayla, Tess and Loz, who bring so much experience and success to a team, is a credit to the front office."
The Virginia Tech alum is confident she will be an asset to the harbour city side next season.
"Being a spark off the bench is something I can bring to this group," the 28-year-old said.
"I pride myself on work ethic and bringing energy to teams I'm on, so anything that the team needs me to bring, I'll bring it."
Panousis, who is currently lighting up NBL1 East with her Sydney Comets to the tune of 25.50 points, 6.08 dimes and 4.50 boards, is also excited to play for her hometown team and help them win the club's fifth championship.
"[In WNBL24] I'm most looking forward to being able to play in front of my family and friends once again," she said.
"As well as that, I'm keen to build on last season and compete for a title."
Flames president Victoria Denholm was equally thrilled to have Panousis back in the black and silver in 2023-24.
"Vanessa was a poised leader and a big presence in the locker room last season – her experience is invaluable and she's a Sydney local," Denholm said. 
"She's a competitor and a leader, and she knows how to do the little things to make her team better.  
Denholm went on to say the club thought it was vital to bring back one of the competition's top NSW talents, to emphasise the legit pathway for aspiring girls to the WNBL. 
"With Vanessa returning and Lauren coming back to the Flames, I hope we're sending a statement to all NSW juniors that the Flames are your club and we want you to have a pathway to get here," she said. 
Keep up the date with all the Hoops Capital club's news here.