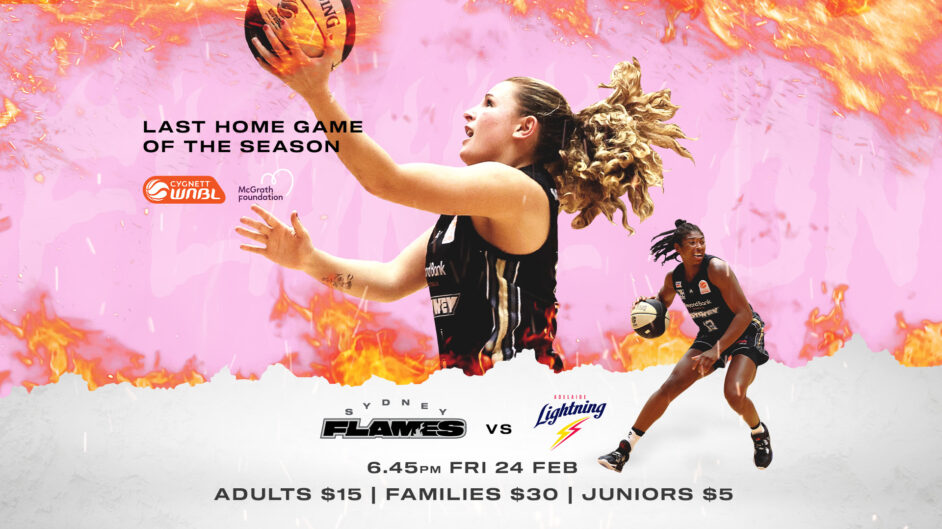 February 17, 2023 | Sydney Flames news
The Sydney Flames, in partnership with the McGrath Foundation, will host their inaugural Pink Round on Friday, February 24.
As part of the round 15 fixture against the Adelaide Lightning, the Hoops Capital side will turn the Quaycentre pink, with an aim to raise funds and awareness around breast cancer.
"Initiatives like the Pink Round are extremely important to not only bring awareness to this cause but to also help men and women get early detection, to ensure they get the best treatment available," said Flames guard and breast cancer survivor Tiana Mangakahia, who is grateful the club decided to its first-ever Pink Round in WNBL23.
CLICK HERE TO GET YOUR FLAMES TICKETS NOW
"So to be able to team up with the McGrath Foundation for this amazing – I've researched their website and seen all the incredible work they've done with cricket previously and really feel this is a massive opportunity for the club and one I hope can become an annual partnership moving forward."
As well as that, Flames' sponsors will be chipping in $300 to the McGrath Foundation for every three-pointer made by the harbour city side – during the fixture that tips off at 7pm AEDT.
View this post on Instagram
Initiatives like this, along with money from ticket sales and donations via the fundraising page, will all go a long way to assisting the McGrath Foundation's goal.
"It's the McGrath Foundation's goal to fund 250 McGrath Breast Care Nurses by 2025, as we work towards our mission of ensuring that no one misses out on care," McGrath Foundation ambassador and director Tracy Bevan said.
"Events like this are truly helping us to make a difference and move towards that goal; we couldn't do it without you."
Mangakahia is one person that knows how important nurses can be, saying her oncology assistant Brittney was vital during the toughest period of her life.
"It was so important to have someone there that you could just talk to and help you get through everything you were going through – especially as I was in the United States and my family was back here in Australia," she said.
"She [Brittney] answered any questions I had and knew everything I was physically and mentally going through."
FANS CAN DONATE TO THE MCGRATH FOUNDATION NOW HERE
Another person that was there for Mangakahia every step of the way while she was going through her treatment, while at the University of Syracuse, was best friend and current Flames teammate Vanessa Panousis.
"I can remember when she first told me, I didn't believe her and was numb all over," said Panousis, who has also dealt with cancer in her family.
"She then told me all the steps she was going to have to take, which made me absolutely devastated for her but I reassured her, I was here for her in whatever she needed and that she was strong and was going to get through this – which she has now done, which is an amazing testament to her character.
"I highly encourage all Flames fans to come in pink to the game and support Tiana, our team and this great cause."
Tickets to the Pink Round fixture, which is also the last time the Flames will play in Sydney this season, are still available here.