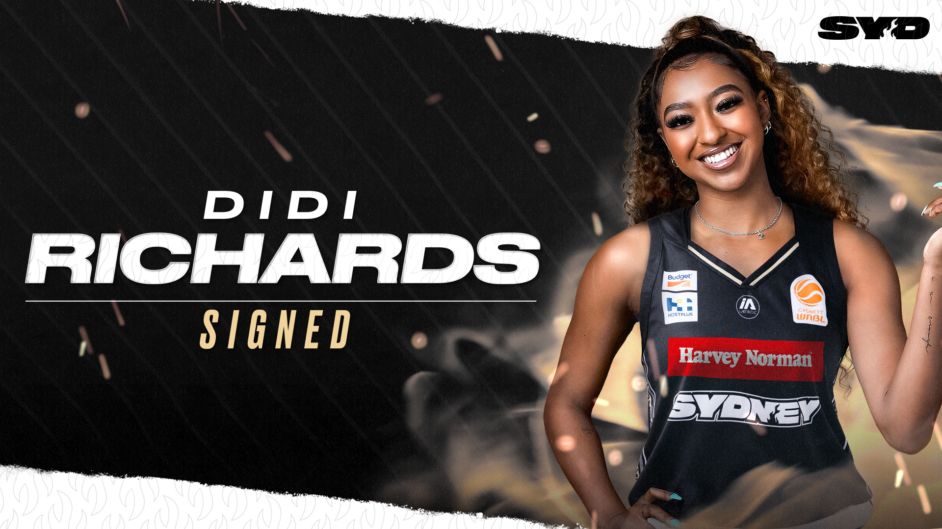 September 15, 2023 | Sydney Flames news
The Sydney Flames will have more WNBA experience in their line-up during the 2023-24 season, after announcing the signing of Didi Richards to a one-year deal. 
Richards, who spent two seasons with the New York Liberty (from 2021 to 2022), joins the Hoops Capital side which already boasts Cayla George (Las Vegas Aces) and Tess Madgen (formerly with Phoenix Mercury) with WNBA experience. 
The defensive-minded forward becomes the club's final player for WNBL24, joining George, Madgen, Lauren Nicholson, Shaneice Swain, Kiera Rowe, Emma Clarke, Vanessa Panousis, Lara McSpadden and the recently signed Paige Bradley on the roster.
BECOME A FLAMES WNBL24 MEMBER TODAY 
"There are multiple reasons why I'm excited to head to Sydney and join the Flames," Richards said. 
"Normally, during the off-season, I stay in the United States and train in the WNBA off-season, while also doing some modelling off the court but I thought that, after not playing recently because of injury, it was important for me to spend as much time playing on the court and with the ball in my hands. 
"If I'm being honest, I fell out of love with the game a few years ago but am excited to get that back at a great club like Sydney and in a beautiful country like Australia – which everyone believes I will love. 
"It just feels like the perfect place for me to ramp up my return to court – I can't wait to arrive in the next few weeks." 
Born in Houston, Richards made her way through the Texas ranks before playing high school basketball at Cypress Ranch. 
The now 24-year-old then spent four seasons (2017-21) with Baylor, where she helped the Lady Bears win the 2019 NCAA championship while also taking out the 2020 Naismith Defensive Player of the Year and WBCA Defensive Player of the Year awards. 
Following her successful college career, Richards was selected with the 17th overall selection in the 2021 WNBA Draft by the Liberty – which led to her being named in the WNBA All-Rookie Team. 
"Anyone who knows me, can testify that I'm a versatile player, who can play and guard one through five," Richards said. 
"I'm also someone who can adapt to any role the coach or team needs me to play – being happy to lead at times but also learn and continue to grow as a player. 
"Not only that but I can bring energy and fun to the locker room while also setting the tone defensively – being the competitor I am. 
"I'm confident if I do all of those things at a consistent level, while also continuing to be a student in my recovery process, all my and the team's goals will take care of themselves."
READ MORE: FLAMES SIGN BRADLEY AS FIRST IMPORT OF WNBL24
Flames president Victoria Denholm believes Richards is a massive addition to the harbour city side's roster, as they chase their fifth championship in WNBL24. 
"Didi is an incredible athlete, who's proven she can bounce back, and we're excited to see her play her first international stop in Sydney," Denholm said. 
"She's versatile and has the ability to play multiple positions which fits well with what we're trying to do on the court.  
"Off the court, everyone we've spoken to raves about her including Opals coach Sandy Brondello and we're so excited to have her in the program." 
The Flames tip off their season on Friday, November 3 in Perth before playing their first home game against Melbourne on November 12, as part of a Hoops Capital double-header at Qudos Bank Arena – with tickets available here.