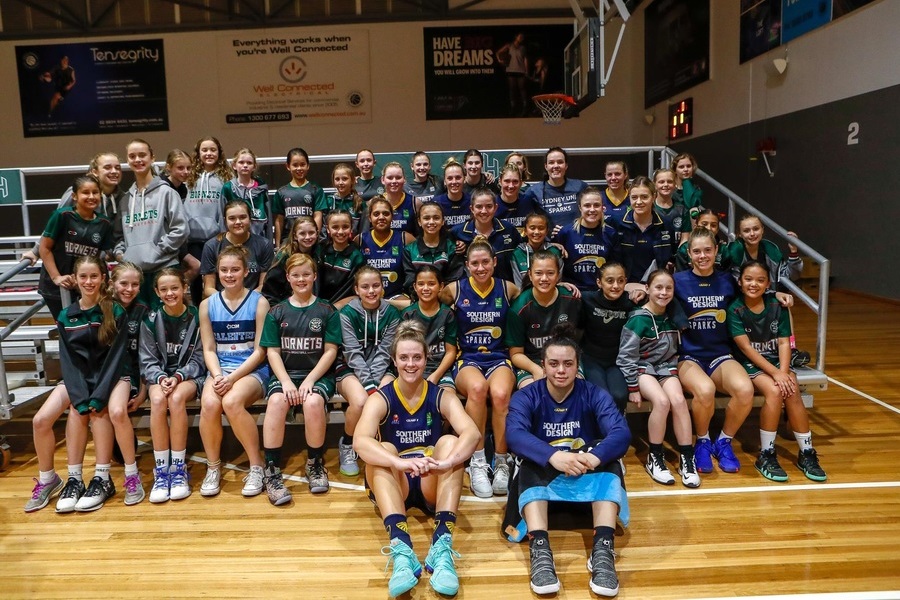 May 30, 2018 | Sydney Flames news
By Susannah Walmsley
Featuring a host of Brydens Sydney Uni Flames players, the Southern Design Sydney Uni Sparks played their Round 8 SEABL match up at Hills Basketball Stadium in Sydney's North West. Coached by Flames captain Belinda Snell, the Sparks received a very warm welcome from the fantastic crowd at Hills.
Taking on the Canberra Capitals Academy, the Sparks bounced back from a tough weekend in Tasmania to defeat the visiting side 70-48.
It was a shaky start from both teams with strong defensive pressure applied. In a low scoring first period, Sydney Uni finished the quarter leading, 13-12. Canberra retained the lead early in the second, but that would be the last time they would get their noses in front.
The Sparks welcomed Tahlia Tupaea back into the lineup after a week on the sideline and her on court presence gave the home side a lot of poise. The home side were able to build a five point lead by half time and from that point on took complete control of the game. Building in confidence with each quarter played, their patience on offence began to pay off. Once they were able to execute offensively, the Sparks piled on the points, outscoring their opposition 42-25 in the second half. In one of their most complete performances to date, the Sparks were also unrelenting on defence for the entire game, with 13 points the highest quarter total they would allow the Caps.
With strong emphasis placed on reducing turnovers and winning the rebound count, the Sparks were able to capitalise on these two areas. They took care of the ball, limiting turnovers to 12 for the game, giving themselves ample opportunity to make the most of their offensive sets. The Sparks were also dominant on the boards, out-rebounding the Capitals 47-27.
Perhaps the most telling statistic was Sydney Uni's ability to limit the Capitals offensive rebounds to just two, while pulling down 15 allowing for multiple second chance opportunities. Shanae Greaves and Lara McSpadden were key in this area, doing a great job of keeping their players of the glass and pulling down 7 rebounds apiece.
Susannah Walmsley found form in the second half, top scoring for the Sparks with 16 points and adding seven rebounds. Back on her home court at Hills, Sherrie Calleia had a breakout game with 15 points and three assists. Maddie O'Hehir also made some big plays for the Sparks, adding 13 points and two blocks.
Image courtesy of Geoff Trip
SECURE YOUR EARLY BIRD FLAMES MEMBERSHIP TODAY HERE!