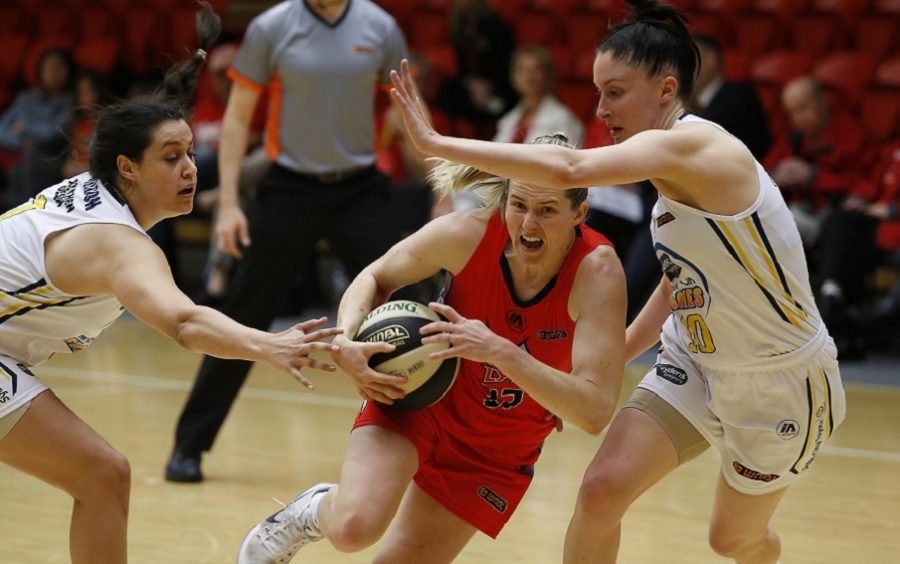 October 9, 2017 | Sydney Flames news
The defending champions, the Brydens Sydney Uni Flames, got off to a rocky start in their 2017/18 campaign. They were set a tough task in the opening round with a road double to Adelaide and Perth.
Adelaide was the first stop for the Flames. With only a few faces from last year's side, the new look Adelaide Lightning line up was a force to be reckoned with. In a high scoring affair, the home side took the first game 91-80.
The Lightning piled on 33 first quarter points and took a healthy 14 point lead into the first break. The visiting Flames upped their defensive intensity in the second quarter and made the most of their opportunities on offence, clawing their deficit back to two points late in the second quarter.
Coming out of the half time break, the Lightning gained momentum and never looked back. Despite the Flames efforts, they walked away with a tough loss to start the season.
Katie-Rae Ebzery had a solid start in her return to the Flames, finishing with 20 points and 7 assists. Ally Wilson continued her great form from last season, with 18 points and Belinda Snell chipped in 16, shooting 50% from beyond the arc. US Import, Asia Taylor, didn't have her best shooting night, but contributed well on the glass with 10 rebounds.
Sydney Uni had a quick turnaround and next up they took on the Perth Lynx. With one game under their belt, the team were ready to bounce back from Friday night's loss.
After a tightly contested first quarter, the Flames held a 5 point lead at the first break. From this point on, despite a few push backs from the home side, they kept their heads in front and never gave up the lead. The Flames finished the contest with a 93-80 victory.
As a team Sydney Uni shot a respectable 51% from the field and had an impressive 19 assists to Perth's 11. The Flames US imports, Jen Hamson and Asia Taylor, both finished with 20 points and 9 rebounds. Belinda Snell was again outstanding for the Flames with 18 points and 9 assists, while Ally Wilson chipped in 16 points.
The Flames will head back home to Brydens Stadium for Round 2. They host the Dandenong Rangers on Saturday October 14th at 7pm.
Tickets for Round 2: Flames vs Rangers available here.