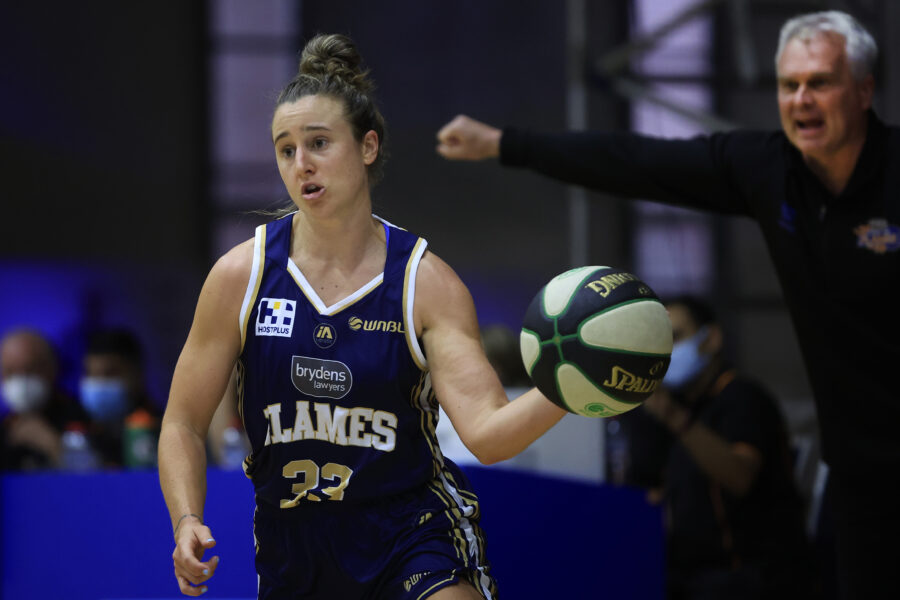 February 5, 2022 | Sydney Flames news
Star Brydens Sydney Uni Flames guard Lauren Mansfield will miss the majority, if not the remainder, of the WNBL season due to injury. 
Mansfield sustained what was originally believed to be a minor calf injury in the game against the UC Capitals last week, but scans revealed a tear to the left calf tendon requiring some significant rest and rehabilitation. 
Mansfield will be out of Sunday's game against the Townsville Fire at Qudos Bank Arena but there is a chance she could return for some games before the season's end. 
"Initially I got the news saying it was eight weeks, but it could be less depending on how it feels and how the rehabilitation goes," Mansfield said. 
"Getting back is something I'll work towards and it's good for me mentally to have that goal, but I'll also be smart about it as well. 
"Obviously I'm pretty bummed about it. It has been a crazy year and I'm more upset for my team than anything else. 
"It's been a disrupted year but I think I've been able to be a steadying presence on the team adding some experience. Now to not be able to be on the court with the girls I'm super disappointed but I'm looking to be a more vocal presence on bench and at training. You will hear me more." 
That is music to the ears of any Flames supporter but it also comes as Mansfield had been putting together a solid season individually. 
The co-captain has been averaging 13 points a game and leading the Flames in assists for the season at 4.4 a game.  
In the win over Bendigo Mansfield had 21 points shooting 7-11 from the three-point line. 
"That's what's so frustrating," Mansfield said. 
"I'm in good form, my body had been feeling good, I felt fit and I was finally making some shots." 
Flames coach Shane Heal said Mansfield's loss was a big blow to his young side. 
"I'm shattered for Loz being ruled out for the rest of the season," he said. 
"She has been amazing for us on and off the court. Her poise and leadership will be sorely missed in this young team. Not to mention the scoring she has added over the season including her seven threes in our win. 
"I think she has had her best season of her career and has shown the true value she has added." 
The Flames game at Qudos Bank Arena on Sunday will be the last double-header of the season with the Sydney Kings. 
The Flames v Townsville Fire will take place Sunday, 6 at 3.30pm at Qudos Bank Arena. With the Kings taking on the New Zealand Breakers before, get your tickets here.