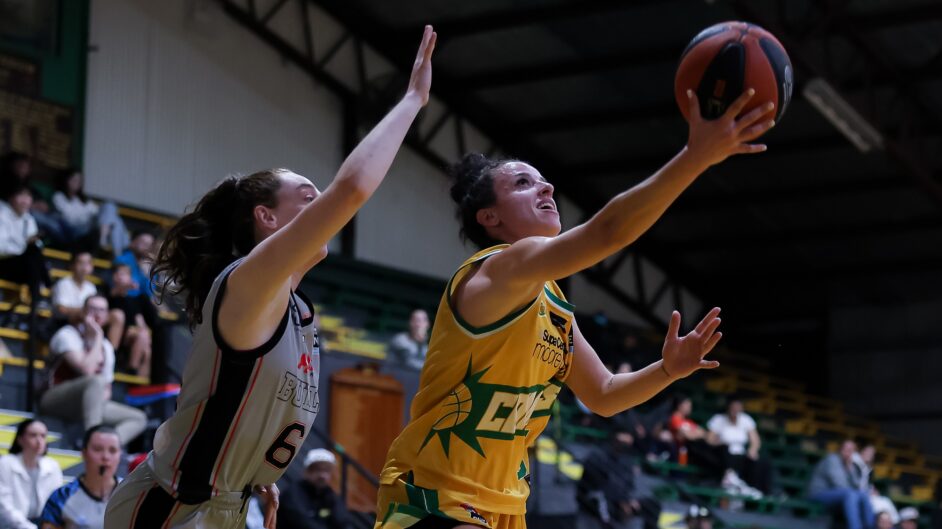 June 5, 2023 | Sydney Flames news
Numerous Sydney Flames stars continued to tune up for the WNBL24 season by producing strong performances in the 2023 NBL1 competition.
Emma Clarke was a standout for Perry Lakes once again, putting up 22 points, eight rebounds, five assists, three steals and one block in her Hawks' tight 75-73 loss to Joondalup.
Clarke's troops will look to return to the winner's circle against Perth on Friday night.
To NBL1 South and Kiera Rowe's Raiders suffered a heavy 82-47 defeat to Geelong, despite 11 points, four boards, two dimes and one block by the Flames forward.
Knox has a quick turnaround and will next lock horns with Nunawading on Friday night.
READ MORE: TIANA MANGAKAHIA RELEASES STATEMENT ON FUTURE
In NBL1 East, new signing Lauren Nicholson led her Sutherland Sharks to another strong win, downing Hornsby 106-61 – with the guard posting 24 points, eight assists, four rebounds and one steal.
Nicholson's outfit return to the hardwood on June 17 against the third-placed Norths Bears.
Another team to taste victory over the weekend was the Sydney Comets, headlined by Vanessa Panousis and Jada Crawshaw.
The green and gold smashed Inner West 90-66 behind the former's 34 points, eight assists, five rebounds and five steals – with Crawshaw adding a double-double (19 points and 13 rebounds) to go with two steals and one block.
Following the long weekend, the Comets the Mustangs.
The final harbour city player to take the court in NSW was Rachel Maenpa, who helped Central Coast upset Manly-Warringah 81-77 with 13 points, two rebounds and one assist.
The Crusaders next travel to Albury-Wodonga
Heading to NBL1 and Indiah Bowyer posted 15 points, six rebounds, three dimes and two steals as her Townsville Flames defeated Darwin 86-59.
The Flames are back on Friday night against Sunshine Coast.
Red City suffered another defeat on Saturday but it wasn't from the effort of Lilly Rotunno, who tallied 12 points, 10 rebounds, six assists and one steal in the 94-75 loss to North Gold Coast.
A double-header awaits Rotunno's Roar this weekend, starting with Brisbane on Saturday before South West Metro on Sunday.
Check out the Flames hype reel of Lauren Nicholson above, via our Sydney Flames YouTube channel. While you're there, be sure to hit subscribe, to ensure you never miss out on any of our great videos.
To the Kings' part of Hoops Capital and none shone brighter than wing Angus Glover, who recorded a triple-double for Eltham in their 114-66 thumping of Casey.
Glover's 18 points (including four triples), 13 rebounds and 10 assists kept the Wildcats in second spot on the NBL1 South ladder.
The Wildcats next take on Frankston in a top-of-the-table clash on Saturday, February 17, followed by Bendigo the next day.
Moving up to Queensland and Shaun Bruce's Logan chalked up another two victories across the weekend.
On the road, his Thunder edged Rockhampton 108-97 thanks to 14 points, 13 dimes, four rebounds and one steal by the Kings guard.
The two-time NBL champion then had 14 points, 13 assists, four boards and two swipes in his side's 96-83 triumph over Mackay.
The league-leading Thunder have the bye in round 11 before facing Cairns on June 17.
Elsewhere in NBL1 North, Jaylin Galloway added 16 points, six rebounds, four assists and two steals as Ipswich downed 99-83.
Next up for the third-placed Force are away fixtures against Rockhampton and Mackay.
Makuach Maluach continued his impressive season with Darwin by tallying 27 points, seven rebounds, six dimes, two steals and one block in their 102-84 victory over Townsville on Saturday.
The fourth-placed Salties hit the road in round 11 for a triple-header against Gold Coast, South West Metro and North Gold Coast.
Finally, in a replay of last year's NBL1 North grand final, Gold Coast outlasted USC Rip City 120-97 despite a massive 45 points,m 13 rebounds, four assists, two steals and one block by Kings forward Kouat Noi.
Rip City will look to rebound with a double-header against Northside and Southern Districts.
In NBL1 East, Archie Woodhil (16 points, six rebounds, one assist and one steal) and his Comets fell to the Inner West Bulls 104-71.
The Comets host Maitland in their next fixture on Saturday, June 17.
The final purple and guard star in action across the weekend was Zac Gattornam who added 18 points, nine rebounds, four assists, one steal and one block as Geraldton overcame Goldfields 100-86.
The Buccs next take on Joondalup on Saturday.
Stay up to date with all the Hoops Capital off-season news here.