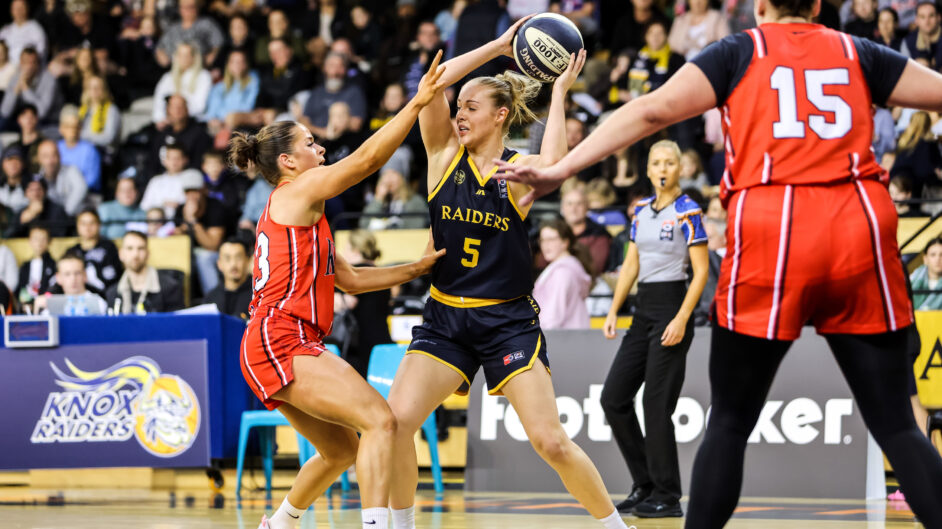 April 17, 2023 | Sydney Flames news
The NBL1 competition was back with a full slate over the weekend, which saw plenty of strong performances produced by Hoops Capital athletes.
Starting with the Flames and skipper Keely Froling had a huge weekend for the Launceston Tornadoes.
Despite dropping road games against Eltham (84-77) and Bendigo (105-80), Froling dominated to the tune of averages of 30 points, 7.5 rebounds, 2.5 assists and one block.
The Australian Opal and her Tornadoes return to Tasmania in round three for a home double-header against Knox (Friday) and Ballarat (Saturday).
𝙁𝘼𝙉𝙏𝘼𝙎𝙏𝙄𝘾 𝙁𝙍𝙊𝙇𝙄𝙉𝙂 🙌

Flames skipper @KeelyFroling averaged 30 points, 7.5 rebounds, 2.5 assists and one block during her Launceston Tornadoes' two @NBL1 South games against Eltham and Bendigo across the weekend.

📰: https://t.co/km6PaP7C3i#FlameOn pic.twitter.com/SkBMzIaPMW

— Sydney Flames (@TheSydneyFlames) April 17, 2023
The other Flame to hit the hardwood in the South division was Kiera Rowe, who split her fixtures with Knox against Nunawading (lost 76-69) and Kilsyth (68-60 win).
Across the two games, the harbour city star totalled 18 points, eight rebounds, seven assists, three steals and two blocks.
Next up for the Raiders are road games against Launceston (pitting Rowe against Froling) and Hobart.
Moving up the east coast and the Sydney Comets, spearheaded by Flames' Vanessa Panousis and Jada Crawshaw, chalked up wins against Sutherland (87-57) and Central Coast (84-67).
In the first game, Panousis and Crawshaw put up 21 points/seven assists/four rebounds/two steals and 26 points/15 rebounds/one steal/one block respectively.
Then against the Crusaders, Panousis dropped 40 points, as well as four rebounds, four assists and one steal, while Crawshaw added seven points, four rebounds, two steals and one block – to keep the Comets undefeated in 2023.
The 6-0 Comets next host the 5-1 Sea Eagles on Friday night, in a battle between first and third.
Also in the NBL1 East, Emma Donnelly and her Norths Bears lost 73-70 to Manly before smashing Penrith 93-36 – thanks to 11 points, four rebounds, two assists and two steals from the Flames amateur player.
In round six, the Bears face Hills on Saturday at home from 2pm.
Moving to Queensland and Maddy Allen's Southern Districts Spartans lost both their matches, going down 103-62 to Northside and 66-60 to Sunshine Coast.
In the defeats, Allen totalled 39 points, 19 rebounds, 10 steals, nine assists and two blocks.
The Spartans will look to return to the winner's circle on Sunday against Mackay at Rowland Cowan Stadium.
Flames young gun Lilly Rotunno put up 18 points, seven assists, six rebounds and one steal in Red City's 72-54 loss to Rip City.
Rotunno's Roar host Townsville in round four on Saturday – pitting her against fellow amateur player Indiah Bowyer, whose side comes into the fixture on the back of a 79-76 loss to Brisbane, in which the guard tallied 16 points, four dimes, three swipes and one rebound.
Bowyer's Flames also play Ipswich on Friday and Logan (Sunday) as part of the weekend's road triple-header.
Finally, our west, Flames wing Emma Clarke and her Perry Lakes Hawks recorded one loss (Willetton 88-67) and one win (Perth 104-68) over the weekend.
Clarke first put up 17 points, six boards, four dimes and one steal against the Tigers before exploding for 34 points, four rebounds and four assists against the Redbacks.
The Hawks host Mandurah in round four on Saturday.
REGISTER YOUR 2023-24 MEMBERSHIP INTEREST NOW
Moving onto the Kings and sharpshooter Dejan Vasiljevic lit up the NBL1 South competition for Diamond Valley on Friday night.
The two-time NBL champion put up 40 points (including 5/7 from downtown), nine rebounds, four assists and one steal, as the Eagles downed Ringwood 108-99 at the Diamond Valley Sports and Fitness Centre.
Two days later, Vasiljevic (seven points, eight rebounds, four assists and one steal) helped the Eagles edge Dandenong 90-89.
Next up for the Eagles, who are on a two-game winnings streak, is a trip to Dreamstreet Lending Arena to battle Frankston on Saturday.
Elsewhere in the south conference, Kings wing Angus Glover put up 24 points, seven boards, one dime, one steal and one block as Eltham defeated North West Tasmania 98-72 to keep their perfect record intact.
In round three, Glover's Wildcats have a double-header, which includes fixtures against Ringwood (Friday) and Bendigo (Sunday).
Heading north and three Kings lined up across round three, including young gun Jaylin Galloway.
He contributed eight points, 12 rebounds, two assists and two blocks as Ipswich outlast South West Metro 91-89, to move to 3-0 in 2023.
His Force host the 3-1 Townsville Heat on Friday at JBS Stadium.
At the Bendigo Bank Cornubia Park Sports Centre, Shaun Bruce's 17 points, six assists, three steals and two boards powered Logan to a 102-100 triumph over reigning champions Gold Coast.
In round four, Bruce's Thunder will again be at home, hosting Townsville on Sunday.
While the newest Kings recruit, Makuach Maluach had 28 points, seven assists and five rebounds as Darwin overcame Rockhampton 115-95 on Saturday.
Maluach's Salties have the bye on round four, before travelling to Cairns on April 28.
To the NBL1 East and Archie Woodhill's Sydney Comets split their games at the weekend – losing 87-86 to Sutherland before rebounding 96-72 against Central Coast.
Across the two fixtures, Woodhill tallied 31 points, 14 rebounds, one assist and one block.
Next up for the Comets is a round six showdown with Manly-Warringah on Friday night at home.
The final King in action was Isaac Gattorna, whose Geraldton Buccaneers went down 96-90 to Joondalup, despite 20 points, seven rebounds and three dimes by the forward.
But they rebounded and moved to 2-2 on the season thanks to a commanding 127-87 victory over Cockburn, thanks to 19 points, five boards, three steals, two assists and two blocks by Gattorna.
Next up for the Buccs in a clash with Warwick on Saturday.
Stay up to date with all the Hoop Capital club's off-season news here.