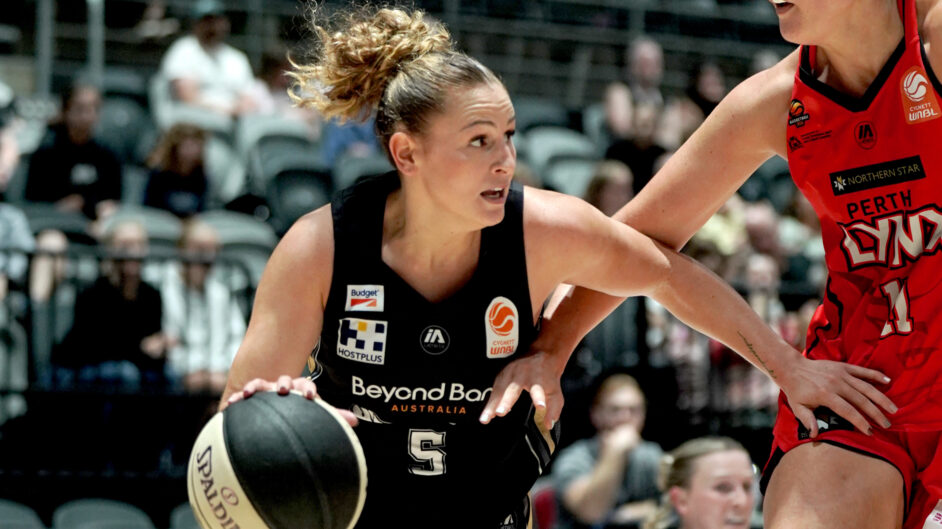 January 29, 2023 | Sydney Flames news
The Sydney Flames' final home game of the season will be a special one, with the club announcing it will hold an inaugural Pink Round in support of breast cancer awareness. 
The initiative, which will see the Flames partner with the McGrath Foundation, will see the Quaycentre turn pink on Friday, February 24 against Adelaide with fans encouraged to do the same. 
"We were approached by team captain Keely Froling and Tiana Mangakahia to ask if there was an opportunity for us to help raise awareness for Breast Cancer given Tiana's own lived experience as a breast cancer survivor," Flames president Victoria Denholm said. 
CLICK HERE TO GET YOUR FLAMES TICKETS NOW
"Tiana was really focused on the importance of using her platform to encourage others to get scans regularly. 
"It's a cause that is important and authentic to this playing group and we will always do everything we can to support our players – it is also an issue that hits close to home for a lot of women (and men). 
"Even through my own experiences, I have lost a family member and have a few close family friends that are survivors of breast cancer. 
"It's unfortunately not uncommon – so the support and care offered to women and men going through it is extremely important." 
The Hoops Capital side will hold this pink round in support of the McGrath Foundation on the evening. 
"We are partnering with the McGrath Foundation – they have a unique platform in connecting sports and raising funds to ensure no one goes through breast cancer without the care of a breast care nurse," Denholm said. 
"The foundation was started by Jane McGrath and her cricketing husband [Glenn] after her own experience. 
"Our sponsors and ownership group will have the opportunity to pledge a donation for every three-pointer our Flames make on the night and our fans will have the opportunity to donate and meet some amazing volunteers from the McGrath Foundation at the game." 
Hear our Tiana Mangakahia talk exclusively on @abcsport Grandstand this afternoon at 12.45 as she unveils an exciting new initiative for the Flames #FlameOn pic.twitter.com/Z0NI9ecJU3

— Sydney Flames (@TheSydneyFlames) January 27, 2023
As Denholm alludes to, one of the driving forces behind the club's Pink Round was guard Mangakahia, who was diagnosed with stage two breast cancer in 2019 while at Syracuse University. 
"The Flames' Pink Round is so important to me, as creating awareness about breast cancer is something I strive to be a part of," the 28-year-old said. 
"I was excited when Victoria reached out to me [about the round] and I told her I would love that, and it would mean so much to me as a breast cancer survivor. 
"With everything I have been through first-hand, I want others to understand the importance of checking themselves and going in to get check-ups while helping create a space where others feel comfortable asking questions. 
"Initiatives like this also help myself and others learn about the different foundations and services available for women and men who are diagnosed with breast cancer while providing us a way to give back and help those in need." 
Final double header Sunday 🔥

This afternoon we take on Townsville Fire at 1:30pm before the Kings game at 3:45pm in the Kingdom.

Catch all the action LIVE on 9Now#FlameOn pic.twitter.com/4wAK6w6Wzw

— Sydney Flames (@TheSydneyFlames) January 28, 2023
Denholm added that her harbour city club aims to make this an annual event. 
"While we're keen to see how this round goes first, there is a lot of alignment for us to work with the McGrath Foundation longer term," she said. 
"We hope to have future Opal Tiana Mangakahia around our club for a long time and will continue to support all our players, however we can." 
The McGrath Foundation is thrilled to partner with the Flames for their inaugural Pink Round.
"It's the McGrath Foundation's goal to fund 250 McGrath Breast Care Nurses by 2025, as we work towards our mission of ensuring that no one misses out on care," McGrath Foundation ambassador and director Tracy Bevan said. 
"Events like this are truly helping us to make a difference and move towards that goal; we couldn't do it without you,"  
Tickets to the Pink Round fixture are still available here.