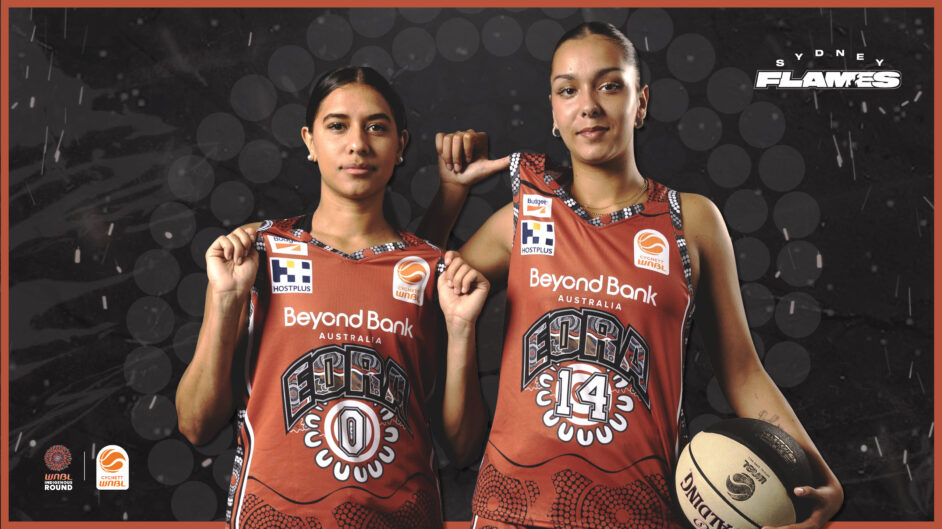 February 13, 2023 | Sydney Flames news
For the second straight season, the Sydney Flames will celebrate the proud cultural heritage in Australian hoops during the WNBL23 Indigenous Round.
The Hoops Capital club will once again sport uniforms designed by Wiradjuri Man of the Narrandera Murrumbidgee River People Stewart James, who designed the Kings' NBL23 Indigenous Round kits.
This season though, the 'EORA' (the area where the harbour city side train and play their matches) uniforms will be red orche with a touch of silver instead of charcoal black – as the former has a strong identity for Aboriginal people.
CLICK HERE TO GET YOUR FLAMES TICKETS NOW
"We wanted to demonstrate some consistency and promote this design in a way that shows it isn't just a one-and-done relationship," James said.
"Red ochre has a very important place within Aboriginal culture, as it is used for ceremonies that hold great significance."
Stewart went on to reiterate how important the WNBL's Indigenous Round is for his culture.
"We are in a time now where the history of this country is being acknowledged and the truth-telling is becoming more and more recognised," Stewart said.
"Platforms like this help celebrate and promote Indigenous culture and those players who have broken through some of the barriers that sometimes prevent our mob from success.
"While we promote and celebrate those great outcomes, it also attracts the public's attention to the stories which now have a voice and a narrative for change."
Two Flames that the round 14 game at Quaycentre against Melbourne on Sunday, February 19 will have extra significance to will be proud Indigenous players Indiah Bowyer and Jada Crawshaw.
"Rounds like this are important because it shows recognition to the First Nations people of Australia and our culture," said proud member of the Dhaarba Waara and Biindhii Warra people of the Hopevale area Bowyer, who is also part of the Guugu Yimithirr people from her mother's side and the Olkolo people of central and eastern Cape York on her father's side.
"It also allows Indigenous athletes, officials and coaches to feel appreciated and acknowledged.
"I'm always very proud of my culture so to be able to share it with my teammates and wear a jersey dedicated to that will be very special and exciting, especially with this being my first Indigenous Round in the WNBL.
"My family always gets very excited when I get to wear the designed Indigenous jerseys and they are always interested to see it and to hear the story behind it, so it'll be a huge honour to make them proud."
Indigenous Round 🖤💛❤️

This week we dedicate and celebrate Round 14 to Aboriginal and Torress Strait Islander cultures.

Learn more about the round: https://t.co/H3M9bZbsIw
Take the WNBL cultural awareness quiz: https://t.co/10PsIVLoYU #FlameOn #WeAreWNBL pic.twitter.com/qoZMJP5OX1

— Sydney Flames (@TheSydneyFlames) February 10, 2023
Crawshaw, who has family ties with both the Gurindji and Yamatji mobs, reiterated what her teammate Bowyer said.
"Initiatives like this are important because it gives the club the chance to lead, respect and appreciate Indigenous culture," said Crawshaw.
"It gives First Nations people a self of pride, so to be able to share it with fellow Indigenous player Indi [Bowyer] is really special.
"It's also exciting to experience this [my first WNBL Indigenous Round] with the Flames because it's such a great group of girls and having them support my culture, understand and respect it is something I'm really appreciative of and can't wait to be a part of."
Tickets to the Sunday, February 19 fixture against the Boomers, are still available here.