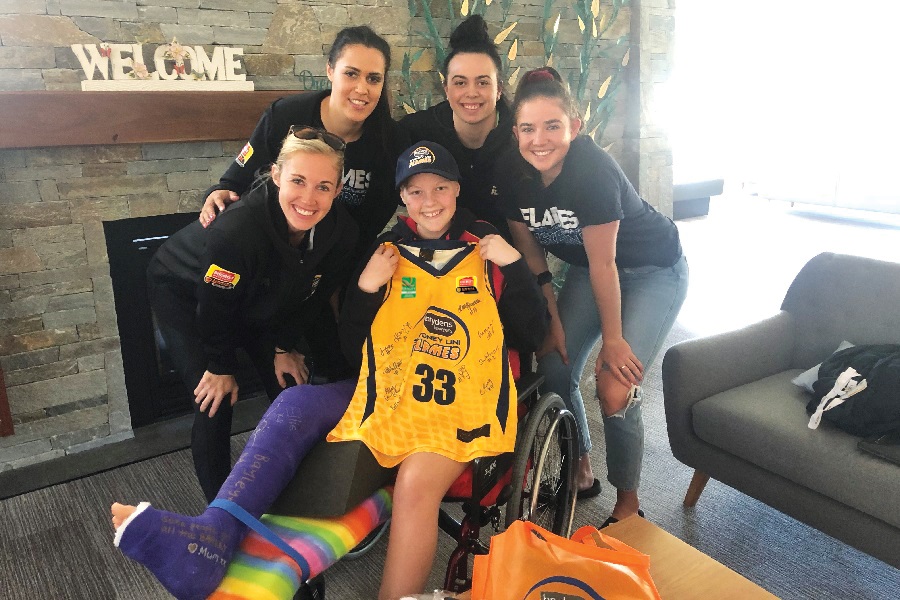 October 4, 2018 | Sydney Flames news
Last week Emily Matthews, Britt Smart, Alex Wilson and Tahlia Tupaea visited sports lover, Molly Croft at Westmead Children's Hospital's Ronald McDonald House.
Molly is a representative netballer in her home town of Dubbo and was instrumental in helping her U12s team to fourth at the NSW age titles.
She is also a keen follower of basketball and footy.
Molly and her family – parents, John and Ange and sister, Maddie – made a 370-kilometre move from Dubbo to Westmead when she was diagnosed with Osteosarcoma, a form of bone cancer.
The important move is to ensure Molly is close to treatment and care to beat her cancer, although difficult, with the family hours from their support network and friends.
The four Flames spent the day with Molly, with family friend Emily Matthews commenting on what an inspiration Molly is.
They gave her a stack of Flames merchandise including a signed jersey, hat, socks and more, a small gesture in a show of support.
To help support Molly and the Croft family, please click here.